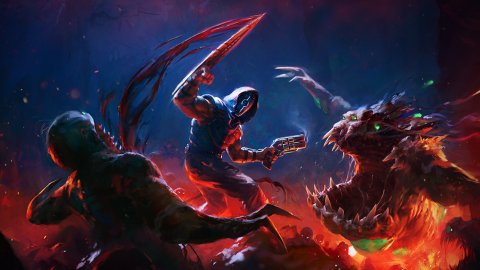 WRATH
During the Realms Deep 2022 event, the publisher 3D Realms has released a new trailer for WRATH: Aeon of Ruin to reveal
the release period
: spring 2023. Considering the years that the title of KillPixel is in Early Access (from 22 November 2019), this is certainly good news, especially
for those who
want to finally wrap up the game.
The video shows some gameplay sequences, including the first boss: Lady of Ascension, Guardian of Mourningvale, all taken from the semi-final version of the game. Let's say that WRATH: Aeon of Ruin is well known by now, so it remains to be seen what the missing content will look like and how the latest issues in the
game will be
fixed.
If you want more information, read our trial of WRATH: Aeon of Ruin, in which we wrote:
Wrath: Aeon of Ruin is somewhat self-explanatory. The Early Access version that we had the opportunity to try showed us a title that has all the credentials to be loved by those who come from the 90s, videogame speaking. Of course, many levels are still missing and the gameplay needs a lot of filings, so for now it's better to stay completely neutral, without hiding, however, that we enjoyed the experience as a whole. Of course, whoever tried it is an old player, so the perfect target for this title.
Have you noticed any errors?
---
WRATH: Aeon of Ruin launches in spring 2023 for PS5, Xbox Series, PS4, Xbox One, Switch, and PC
Dark fantasy horror first-person shooter WRATH: Aeon of Ruin will leave Early Access and launch for PlayStation 5, Xbox Series, PlayStation 4, Xbox One, Switch, and PC via Steam, GOG, and Humble Store in spring 2023, publishers 3D Realms and Fulqrum Publishing, and developer KillPixel announced.
WRATH: Aeon of Ruin first launched in Early Access for PC via Steam, GOG, and Humble Store on November 22, 2019.
A new trailer released today introduces the first boss: the Lady of Ascension, Guardian of Mourningvale. After collecting the five relics in the first hub, players must defeat the Guardian to reach Episode 2.
Here is an overview of the game, via its store pages:
About
You are Outlander. Once adrift upon the Ageless Sea, you now find yourself on the shores of a dying world. From the consuming darkness emerges a figure cloaked in white, the Shepherd of Wayward Souls, who burdens you with the task of hunting down the remaining Guardians of the Old World. You must journey into the vast gloom to explore ancient ruins, discover forgotten secrets and battle the horrors that lurk within.
Fueled by legendary Quake 1 technology, the veins of WRATH pump with the DNA of revered '90s shooters. WRATH embraces the timeless elements of classic titles such as DOOM, Quake, Duke Nukem 3D, Blood, Unreal, and HEXEN and carries them into the 21st century.
Equipped with weapons of exceptional might and an inventory of powerful artifacts, you must traverse ancient crypts, sunken ruins, corrupted temples and howling forests to bring death to your enemies. But do not underestimate your adversaries, for they are great in power and number. Your mind must be as sharp as your blade if you hope to survive the dangers ahead.
The world of WRATH is rich with engaging combat, diverse environments and captivating lore. Every element is deftly intertwined to create an authentic and enchanting experience as timeless as the games that inspired it.
Key Features
Explore a vast world shrouded in darkness, passionately crafted by the hands of expert Quake scene necromancers.
Forge your path with an arsenal of deadly weapons, each with multiple fire modes.
Know your enemy. Many horrors lurk in the shadows, thirsting for your blood.
Artifacts of great power lay hidden in the dark places of the world. Find them and dominate your enemies.
Powered by the Legendary Quake 1 Tech, WRATH is an authentic, classic first-person shooter in every way.
Immerse yourself in haunting music born from the twisted mind of Andrew Hulshult (Quake Champions, Rise of the Triad, DUSK, and Amid Evil).
Watch the new trailer below.