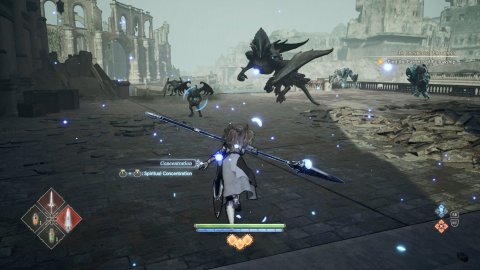 Valkyrie Elysium
During the
Tokyo Game Show 2022
, Square Enix announced that Valkyrie Elysium will receive a free update after launch that will add a new difficulty level and "Hilde's Vengeance" mode. The update will arrive on PS4 and
PS5
in early November 2022 and
will be in
cluded at the launch of the PC version of the game, scheduled for November 11th.
Hilde's Vengeance is an extra mode starring Hilde, a character who , based on the material so far shared by Square Enix, should oppose Maria's mission to prevent the fulfillment of Ragnarok.
In addition to this mode, the Very Hard / Valkyrie difficulty level will be added, which should give even the smartest players a hard time, as well as the Seraphic Gate. In the Valkyrie Profile series these are optional endgame dungeons, while in Elysium it should consist of a series of timed combat challenges.
Valkyrie Elysium will be available starting September 26, 2022 for
PS5 and PS4
, while the PC version is scheduled for November 11. If
you want to
know more, here is our tried. In addition, a free demo has been available on
PlayStation
Store for a few days.
Have you noticed any errors?
---
Valkyrie Elysium gets free demo ahead of its launch on the 29th
It looks like Square Enix is giving audiences a shot at Valkyrie Elysium before the 29th.
Valkyrie Elysium is part of a renewed wave of new JRPG games from Square Enix and other companies.
Similar to Outriders and Stranger of Paradise: Final Fantasy Origin, the upcoming installment in Square Enix's iconic JRPG franchise is also getting a playable demo.
According to Square Enix, the demo version of Valkyrie Elysium will include the first chapter of the game with transferrable progress to the full retail version. This lets you play Valkyrie Elysium today and enjoy your progress once the game comes out in two weeks. The studio also published a guide for those who are new to the genre.
Although Valkyrie Elysium is technically a new entry in the Valkyrie franchise, it's a standalone game. It will feature an original story that new players can enjoy with minimal knowledge about the older games. In addition to this, Valkyrie Elysium will see a full shift in gameplay style. Unlike the older entries with tactical gameplay, Valkyrie Elysium is more of an action RPG.
If nothing else, Valkyrie Elysium should serve as an excellent way to tide action fans over as wait for another Norse mythology adventure, God of War: Ragnarok, which comes out on November 9.
Watch this story and subscribe to Xfire on YouTube.
After selling off its western subsidiaries earlier this year, Square Enix has done an excellent job catering to its most ardent supporters. JRPG fans currently have a smorgasbord of new games to play and look forward to as Square Enix intensified its focus on the genre. Earlier this year, Square Enix released a remaster of Chrono Cross with Tactics Ogre: Reborn also coming soon after. In addition to this, Square Enix will release a remake of FF7 Crisis Core later this year followed by Forspoken, Final Fantasy 7 Rebirth, and Octopath Traveler 2 next year.
As the kids say these days, JRPG fans will be eating good for the next year.
So far, players have had good things to say about Valkyrie Elysium and its free demo.
Valkyrie Elysium is part of Sony's stacked lineup of exclusives that are coming to the PC this fiscal year. Marvel's Spider-Man: Remastered already swung by on August 11. Uncharted: Legacy of Thieves Collection is next on October 18. We're still waiting on news on when the PC ports of Marvel's Spider-Man: Miles Morales, The Last of Us Part 1, Ghost of Tsushima, Sackboy: A Big Adventure, and Returnal, are all coming out.