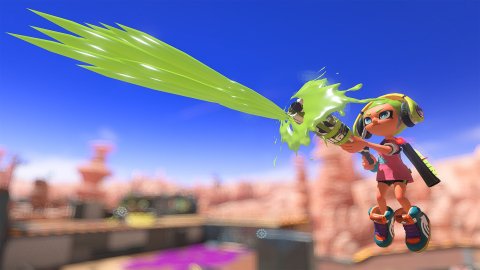 Splatoon 3
Splatoon 3 is already in circulation. Some copies of the game ended up in the hands of players in advance and some leaks are already popping up online (there are no spoilers in this news, don't worry).
As you can see below, a Reddit user reported that bought a copy from someone who received the game in advance, as shown by a photograph of the Splatoon 3 box.
Also, an account called "Splatoon 3 Leaks" is sharing some videos in which you show parts of the game's single player campaign. The game ending is also shown: so be careful to do research, both on social networks and on YouTube.
Nintendo
will probably block these videos, but in the meantime you risk spoiling the surprise.
We remind you that Splatoon 3 will be officially available starting September 9, 2022 on Nintendo Switch. In case you have obtained a copy in advance, we suggest not to access the game with the console connected to the internet, as you may be subject to a ban.
Splatoon 3 has an anti-cheat system which has detected who has tampered with the code to early access an online mode with the beta: it is not impossible that
it will be
able to report who is trying to play with the full copy before publication.
Source Did you notice any errors?
---
Splatoon 3: Release Date, Splatoon OLED and Everything You Need to Know
Splatoon 3 arrives on the Nintendo Switch in a week from now, kicking off what will be a busy fall season for the console. Like previous entries in the series, this colorful, four-versus-four online shooter revolves around inking the most territory, and this time, Nintendo has added a wealth of new modes and mechanics to keep the experience feeling fresh, including new stages, special weapons and an expanded solo campaign.
Here's everything you need to know about Splatoon 3 ahead of its launch, from its release date to where you can buy the newly released Splatoon Nintendo Switch OLED.
Release date
Splatoon 3 launches exclusively for the Nintendo Switch on Sep. 9.
Splatoon Switch OLED
The Nintendo Switch OLED Splatoon 3 Edition is for those looking for a graffiti aesthetic.
Nintendo
Ahead of Splatoon 3, Nintendo has released a Splatoon-themed Nintendo Switch OLED system. The console is on sale now and comes with a specially themed dock and purple and yellow Joy-Con controllers. The system will cost $360, slightly more expensive than the standard Switch OLED.
Splat in style with the Splatoon 3 Switch Pro Controller.
Nintendo
On top of that, Nintendo will launch a Splatoon-themed Switch Pro Controller. It goes on sale alongside the game on Sep. 9 and features blue and yellow grips, as well as Splatoon splatters and logos across the body. The controller will retail for $75.
New Amiibo
In addition to the game, Nintendo is releasing three new Splatoon Amiibo figures: Octoling (blue), Inkling (Yellow) and Smallfry. The figures are slated to launch sometime this holiday.
Nintendo
Nintendo will also be reprinting older Splatoon Amiibo ahead of Splatoon 3's release, including the Squid Sisters and Off the Hook figures.
Stage list
At launch, Splatoon 3 will feature 12 different multiplayer stages, including a handful of returning and refurbished maps from the first two Splatoon games. You can see the full list of launch stages below:
New stages
Scorch Gorge
Eeltail Alley
Hagglefish Market
Undertow Spillway
Mincemeat Metalworks
Returning stages
Hammerhead Bridge (Splatoon 1)
Museum D'alphonsino (Splatoon 1)
Mahi-Mahi Resort (Splatoon 1)
Inkblot Art Academy (Splatoon 2)
Sturgeon Shipyard (Splatoon 2)
Makomart (Splatoon 2)
Wahoo World (Splatoon 2)
More stages will be added to the game as part of free post-launch updates.
DLC
Following its release, Splatoon 3 will receive a regular stream of free updates. These will arrive every three months for two years, and will introduce new weapons, stages, modes and other content to the game.
Nintendo has also confirmed it will release a 'large-scale' paid DLC for Splatoon 3. No other information has been announced yet, but the teaser image included silhouettes of Pearl and Marina, the popular idols from Splatoon 2. Nintendo says more details 'will come at a later time.'
Splatoon 3 launches on Sep. 9. We recently went hands-on with the game and thought it feels familiar but features exciting possibilities. Players who subscriber to the Nintendo Switch Online plus Expansion Pack plan can also play Splatoon 2's Octo Expansion at no additional cost.