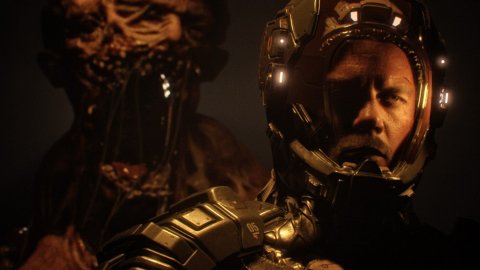 The Callisto Protocol
Geoff Keighley has revealed that during the Gamescom Opening Night Live 202
2 it will
be possible to see a new gameplay video of
The Callisto Protocol
, the new horror game from the author of Dead Space.
As indicated by Keighley via Twitter, the creator Glen Schofield will be on stage at Gamescom 2022 live with the presenter to talk about The Callisto Protocol.
Keighley also claims that he has seen a piece of a demo and the quality of The Callisto Protocol appears to have improved compared to what we could see during the Summer Game Fest.
The Callisto Protocol is a third person horror game set 300 years in the future. Initially set in the same universe as PUBG, it was then separated to become an independent intellectual property.
We will be
Jacob Lee, a prisoner of Black Iron, which is a maximum security prison located on Callisto, the dead moon of Jupiter.
Jacob
will have to
deal with a series of deadly aliens that will easily remind fans of the necromorphs of Dead Space. The game's story aims to be "intense, filled with moments of despair and humanity, with the constant threat of unspeakable horrors lurking around every corner." The fighting will be violent and strategic. You can see a terrifying new enemy here.
The Callisto Protocol release date is set for December 2, 2022 for PC,
PS4
,
PS5
,
Xbox
One
and Xbox Series X
| S.
Source Did you notice any errors?
---
Gamescom is going gory with Callisto Protocol gameplay during ONL
Gamescom 2022 is fast approaching and the Opening Night Live showcase, hosted by Geoff Keighley, is going to be packed with updates and announcements from some of the hottest upcoming games out there – including Striking Distance Studios' The Callisto Protocol. How do we know this? Well, Keighley has only gone and confirmed that brand new gameplay footage from the ex-Dead Space devs' game is coming during this year's introductory showcase.
On August 17 at 06:00 PST / 09:00 EST / 14:00 BST, Keighley shared confirmation that "brand new gameplay from [The Callisto Protocol] will debut during Opening Night Live" and added that Striking Distance Studios' founder and CEO Glen Schofield "is flying all the way to [Gamescom] to join [Keighley] live on stage".
If this doesn't get your blood flowing, Keighley went on to reveal that he has seen a sneak preview of the footage coming to Gamescom 2022's Opening Night Live showcase and claimed that it was "even a step beyond the [Summer Game Fest] footage" we saw earlier in the year.
Of course, whether that is true remains to be seen. However, from what we know of The Callisto Protocol and its' Dead Space-like action-horror gameplay, we're in for a treat no matter what.
This announcement from Keighley is just one of several – with confirmation that a new game from the Subnautica devs will be shown during Gamescom 2022's Opening Night Live being the first post to be shared regarding the showcase's lineup.
However, we also know that Starfield will be at Gamescom thanks to VASCO the robot and we're expecting to see more from Portkey Games' Wizarding World action-RPG. This comes just days after the Hogwarts Legacy release date was pushed back into 2023, so fans are eager to see what they'll be waiting for. It's also been confirmed that Dying Light 2's Bloody Ties DLC will feature – and Evil Dead The Game is teasing additional content for Season Pass 1. There's a lot that could be coming, basically.
However, at the moment, this is all we know for sure. Who knows, we might even see MultiVersus game director Tony Huynh make an appearance. It's one of the best fighting games right now and there's a lot to look forward to from this fighter in the coming weeks – like the fact that MultiVersus' Gizmo and Stripe could be two sides of the same coin. Although, we're not sure about that.