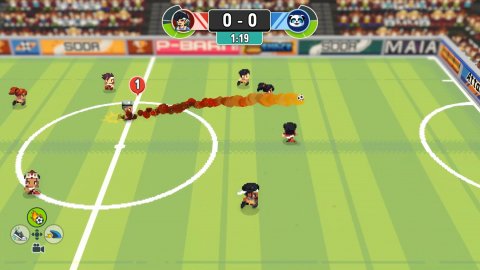 Soccer Story Announced
Publisher No More Robots and developer PanicBarn have announced Soccer Story, a narrative
football
game about a world where football was banned by a multinational, Soccer Inc., after an event called The Calamity ™.
PanicBarn has combined his two great passions in a single project: football, which he had already faced with Tiki Taka Soccer for mobile systems, and narrative video games (the two Not Tonights). Soccer Story is scheduled for release in 2022, a date yet to be decided. The platforms on which we
will be able to
play are numerous: PC, PS4,
PS5
, Stadia, Xbox One,
Xbox Series X
and S and Nintendo Switch.
It will be
available from launch on
Xbox Game Pass
.
Let's see the announcement trailer:
Let's see some images of the game:
+6
If you are
interested, on the official website of the game you can subscribe to the beta.
Let's read the official synopsis:
It's been a year since The Calamity ™ destroyed the foundations of football as we know it: and, ever since, Soccer Inc. has made sure that no one could not just kicking a ball, but not even seeing it with binoculars.
Football has been practically banned from the world ... but finally
now there is
hope! A magical ball has chosen you as the Keeper of Football!
Time to step forward and get back to kicking, solving puzzles and problems that require some skill with the ball. Along the way, you'll have to defeat the strongest villains one-on-one, compete in a wide range of different
sports
(always with your soccer ball, of course), and sometimes use your brain as well as your talent for kicking.
It will be your task to make all those who have forgotten it remember what the most beautiful game in the world really is and to be able to defeat the most formidable teams in circulation, including that of local babies and that made up entirely of sharks!
These, however, are the main features of Soccer Story:
Stop the ball and play wherever you want! The world is full of missions, puzzles and secrets - it's your job to find them! Take on a single player campaign filled with wacky characters, dishonest referees and absurd football-like sports. Develop your career and compete against the fiercest teams around, including sharks, babies, retirees, and ninjas. Save football and restore peace and harmony to the world. Engage another person in thrilling two-player local multiplayer matches with the ability to select multiple teams and animal captains.
Have you noticed any errors?
---
Soccer Story Officially Announced for Consoles and PC, Due Out Later This 2022
Will also be arriving on Xbox Game Pass.
Publisher No More Robots and developer PanicBarn announced a 2022 release window for Soccer Story, a unique open-world RPG that blends puzzle solving and comedy about a magical soccer ball. Soccer Story is coming to PlayStation 5, Xbox Series, PlayStation 4, Xbox One, Nintendo Switch, PC via Steam, Google Stadia, and the Xbox Game Pass service. The release window announcement was accompanied by a trailer, which you can check out below to learn more about Soccer Story.
Soccer Story takes place in a post-apocalyptic world of sorts, but instead of finding yourself on ruined earth filled with mutated monsters or dangerous scavengers, you find that soccer (football for our friends in Europe) has been all but erased across the entire planet. This is due to an event called The Calamity; following its arrival, a corporation known as Soccer, Inc. has made sure that nobody in this world will be able to kick a soccer ball ever again.
However, despite this extremely unlikely yet depressing scenario, a magical soccer ball has chosen you to be the Savior of Soccer and bring the beloved game back to its audiences across the world. This is where your journey begins in Soccer Story, a physics-driven adventure RPG where every single obstacle can be solved with your magical soccer ball. Along the way, you'll face different challenges, such as 1v1s versus hooligans and competing in different sports using your soccer ball.
Soccer Story pits you in a world fraught with some of the most dangerous soccer opponents, such as sharks, toddlers, old-age pensioners, and even ninjas. You can use the soccer ball in and out of these games to explore the world, with many mysteries and secrets to uncover. That said, there's also a fair bit of fun with friends as Soccer Story also features a four-player local multiplayer mode, which pits you and your friends against teams, stadiums, and accompanying animal captains.
A PC beta sign-up is also now available for Soccer Story , and you can sign up here.