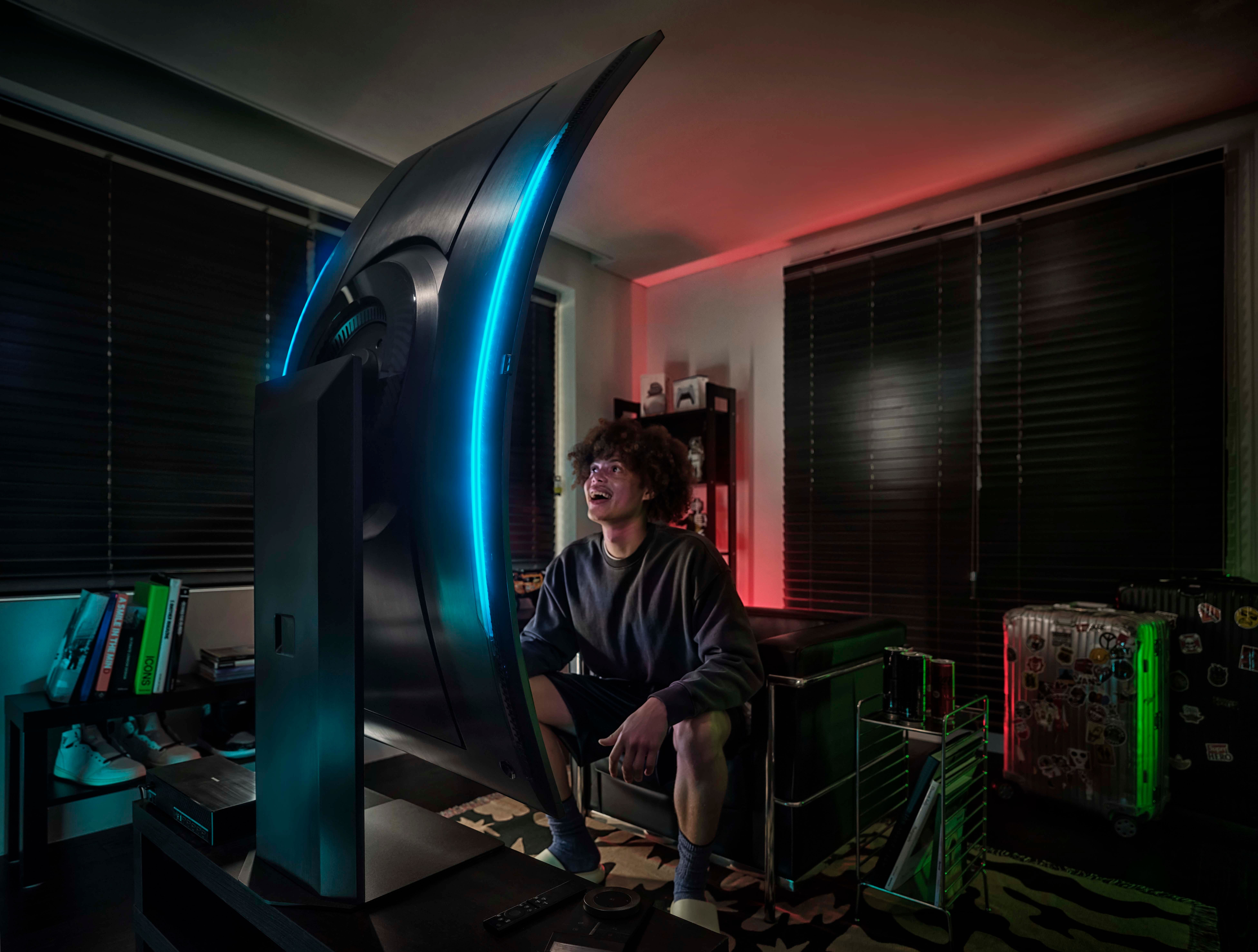 The new arrival in Samsung's already multifaceted range of gaming monitors, Odyssey, is a gigantic 55-inch curved screen, about the size of four traditional screens and which puts on the plate an unprecedented and surprising gem, renamed cockpit mode. Translated as "cockpit mode", it
allows you to
rotate the display 90 degrees vertically and offer the user a suggestive enveloping effect, ensuring greater immersion in the action.
The price is
also extra-large: the screen starts at $ 3499.
The new gaming monitor from the South Korean brand, Samsung Odissey Ark G97Nb, comes up with important and never-before-seen numbers. On a colossal 55-inch diagonal you can view images with resolution up to 4k and a refresh rate of 165 Hz, perfect for the most demanding titles. The curvature is equal to 1000R, equivalent to that of a hypothetical circle with a radius of 1 meter, while the panel is of the quantum mini LED type, i.e. illuminated by a layer of small diodes able to ad hoc adjust the lighting of the various portions. and divide the area into 1056 zones, reproducing even 16384 levels of black and pushing it to a maximum brightness of 2000 nits. The result is extreme realism, guaranteed even in the most difficult scenes with chiaroscuro and shadow areas that are not burned by other brighter ones.
Samsung Odissey Ark G97Nb
With a response time of 1 ms and a powerful processor capable of upscaling old low resolution titles to 4k, the new Samsung monitor can be fixed to the pedestal or mounted on the wall. Equipped with a generous proposal of inputs on the rear, it also includes four speakers and two subwoofers for a total audio output of 60 watts. As anticipated, the monitor has the size of four 22.5-inch screens, and is also a precious ally for video editing, photo editing or any job that requires high multitasking, also thanks to an advanced controller for all adjustments. . The cockpit mode is the final touch: by rotating the screen 90 degrees the user is enveloped by the curve of the screen, for a gaming experience to be explored. In the United States it is already possible to pre-order Odyssey Ark for 3499 dollars, while at the moment the monitor is not available for the Italian market, although it already appears on the Samsung website.