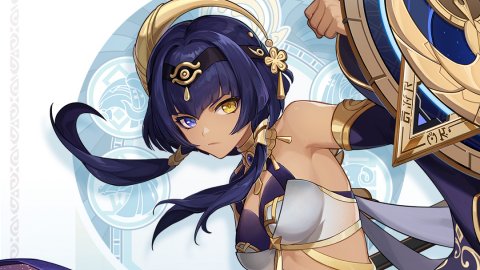 Genshin Impact
A few days after the launch of the substantial Update 3.0 of Genshin Impact, Hoyoverse presented Candace, a new Hydro character native of Sumeru who will join the cast of the action RPG with Update 3.1, together with Cyno and Nilou.
Hoyoverse unveiled the character with a Twitter post, but without unbuttoning too much about the details. We know that Candace is described as "a true descendant of King Deshret" and that she uses the Hydro element. Her design is very reminiscent of ancient Egypt, which fits perfectly with the desert locations of Sumeru that
will be in
troduced this week. According to some leaks that emerged on the net,
it will be
a 4-star unit and uses polearms.
That's not all, because Hoyoverse re-presented Cyno and Nilou, both of whom have already appeared more than once in promotional materials in recent weeks. Cyno also fights with polearms, but is a 5-star character who uses the Electro element. Nilou instead fights with swords and uses the Hydro element.
Candace, Cyno and Nilou barring unforeseen circumstances will be available with version 3.1 of Genshin Impact, out on September 28th. On Wednesday, August 24th Update 3.0 will arrive, introducing the Sumeru region, events, characters and story missions.
Have you noticed any errors?
---
Cyno, Nilou, and Candace revealed as new characters for Genshin Impact 3.1
Genshin Impact has revealed the new Sumeru characters that will make their debuts in version 3.1: Cyno, Nilou, and Candace. (Photos: HoYoverse)
Genshin Impact has stunned its fanbase yet again by drip marketing three more new Sumeru characters ahead of the much-anticipated release of version 3.0.
Developer HoYoverse revealed that version 3.1 will see the release of the new characters Nilou and Candace as well as the in-game debut of the much awaited character Cyno.
Cyno
(Photo: HoYoverse)
Many Genshin Impact fans may already know Cyno from his past appearances outside of the game itself.
He was featured as the poster character for Sumeru in the Teyvat Chapter Storyline Preview: Travail and appeared in the Genshin Impact prelude manga, where he helped to save Collei and brought her back to Sumeru.
He's been one of the most anticipated characters since then. Cyno Nation, our long wait has served us well!
Cyno will be a 5-star Electro Polearm wielder who holds the position of General Mahamatra.
In real life, the Mahamatra was an 'officer of morality' established by Emperor Ashoka of the ancient Indian Mauryan Empire. The real life Mahamatra were senior officials in charge of administration and justice
We can theorise that since Cyno is the Judicator of Secrets, he acts as the overseer of the Academia, making sure that the researchers are kept in line.
Nilou
(Photo: HoYoverse)
Nilou was first revealed in the Prelude to Wisdom teaser for Sumeru and has since appeared prominently in much of the promotional material for the new region.
Nilou is an anomaly in Sumeru, in that she is more invested towards dance and the arts than the pursuit of knowledge so many of her countrymen are obsessed with.
She is the star of the Zubayr Theater and performs intricate, breath-taking dances.
Nilou is a 5-star Hydro character, though her weapon has not yet been revealed.
Judging by how much she has appeared in the promotional material for Sumeru, Nilou is expected to feature prominently in the story of version 3.0 even before her release in version 3.1.
Candace
(Photo: HoYoverse)
Last but definitely not the least is Candace, who has not been revealed in any promotional material before she was drip marketed.
Story continues
She is the guardian of Aaru Village, with a vow to defend her home that she upholds strongly.
She also has a beautiful design, with heterochromatic blue-and-gold eyes as well as an elegant dress with Egyptian-like motifs. Other than that, not much has been revealed about Candace except that she bears a Hydro Vision.
Judging from her art, where she carries a polearm and a shield, as well as what was revealed about her character, we can surmise that Candace will be the game's first-ever Hydro polearm character with a kit centred on protecting others with shields.
Safe to say, we're all excited and scrambling to compute how many primogems we can save up to pull for not one, but two new 5 stars.
Genshin Impact is currently in version 2.8, which will run until 23 August.
Version 3.0 will be released on 24 August, featuring the arrival of the game's fourth nation, Sumeru, and the new element, Dendro, as well as new characters and a ton of other content.
Genshin Impact versions 3.0, 3.1, and 3.2 will have shortened run times of five weeks instead of the usual six weeks, likely to catch up to the game's original release schedule after the release of version 2.7 was delayed back in April.
Genshin Impact version 3.1, along with Cyno, Nilou, and Candace, will likely be released on 28 September.
Yan Ku is a full-time dog parent, part-time (gacha) gamer, and part-time writer.
If you like Genshin Impact and would like to know more about the game, the characters, the mechanics, and even the lore, check our our Genshin Impact page. From character builds and weapon recommendations, to how the pity system works, to diving deep into the story of the Genshin Impact universe, we've got you covered.
For more gaming news updates, visit https://yhoo.it/YahooGamingSEA. Also follow us on Twitter, as well as our Gaming channel on YouTube, and check out Yahoo Esports Southeast Asia's Facebook page!