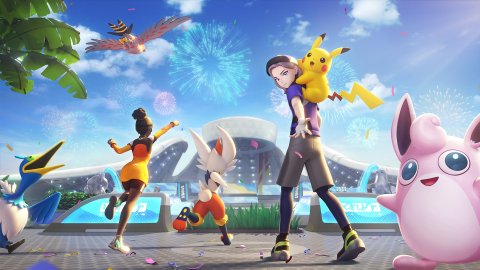 Pokémon Unite
Pokémon Unite on July 21 will blow out the first candle and to celebrate the first anniversary of the MOBA created in collaboration with TiMi Studios,
Nintendo
has announced that many surprises are coming, including 6 new Pokèmon, gifts and bonuses, as well as a PvE event. >
The first of the three Pokémon to join the Pokémon Unite roster will be Glaceon, the Ice-type "eeveelution".
It will be
available on July 21, with players earning its Unite license for free by completing "Glaceon's Frosty Challenge" missions from July 21 to August 14.
Buzzwole will arrive on Thursday 4th August, while Tyranitar will debut on 16th August. Subsequently, starting from September, three other Pokémon will arrive, for the moment still shrouded in mystery.
As mentioned at the beginning, to celebrate the first anniversary there will also be a PvE event like a boss rush, called "All against one, "in which players must
join forces to
defeat powerful Pokémon bosses. The mode will be available in three different periods, namely from 21st to 24th July, from 1st August to 7th August and finally from 15th August to 21st August.
It wouldn't be a real birthday without a cake and for this reason i Pokémon Unite players from 21 July to 2 September 2022
will be able to
take part in the "Anniversary Cake Challenge". By completing the missions you will receive the necessary icing to fill a cake and thus obtain useful rewards.
Finally, even simply by logging in to Pokémon Unite during the period of the celebrations for the first anniversary, players will receive rewards. . Specifically we are talking about free United and Holowear licenses (or 100 Heos coins if you already have them) of five different Pokémon:
Day 1: Pikachu and the Holowear Chic style (Pikachu) Day 2: Lucario and the Holowear Concert style (Lucario) Day 3: Blastoise and the Holowear Firefighter style (Blastoise) Day 4: Snorlax and the Holowear Goodnight Style (Snorlax) Day 5: Sylveon and the Holowear Checkered Style (Sylveon)
Source Have you noticed any errors?
---
Pokémon Unite is getting a slew of new Pokémon including Ultra Beasts!
Pokémon UNITE has remained a popular and well-supported game, despite criticism of its revenue practises. In celebration of the game's first anniversary, new Holowear, Pokémon, and now Ultra Beasts have been added to the roster. First debuted in Pokémon Sun and Moon for the Nintendo 3DS, Ultra Beasts are bizarre alien monsters that emerge from wormholes in space.
To begin with, on July 21st, 2022, the Ice-type Eeveelution Glaceon will enter the game. The Chilly Glaceon Challenge runs from July 21 to August 14 and gives players the chance to win a Unite License for this icy Eeveelution.
Ultra Beast Buzzwole will be available on August 3 and the pseudo legendary Pokémon Tyranitar will be available on August 15, according to the game's official Twitter account. The names of three new Pokémon are yet unknown, but they will be released in September.
Boss Rush, a brand-new sort of Quick Battle, is also coming to the game soon. As part of a team, players take on and kill enormous monsters in challenging confrontations. The key to winning is teamwork and strategizing, so gather your pals and plan a game together!
Teamwork is the key to success!
Pokémon UNITE is the franchise's first MOBA. Free to play, with unique personalization choices for both players and Pokémon, as well as some of the most popular Pokémon in five-team combat.
Subtly charming pop culture geek. Amateur analyst. Freelance tv buff. Coffee lover