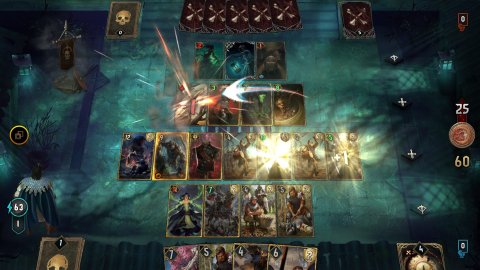 GWENT
GWENT: Rogue Mage shows itself with the inevitable launch trailer: the single player card battle set in the universe of The Witcher is available starting today on PC, iOS and Android at a price of € 9.99.
Announced yesterday, GWENT: Rogue Mage "is set hundreds of years before Geralt and other witchers roamed the Continent, when the Conjunction of the Spheres brought endless hosts of monsters into the world," the press release reads.
"Humanity needed an opportunity to fight his assault to survive. Follow in the footsteps of an ambitious young wizard, Alzur, and his partner, Lily, who embark on a dangerous mission to create a living weapon. that will eliminate the threat of monsters once and for all. "
" Rogue Mage gameplay combines the best elements of roguelike, deckbuilding and strategy games with the unique mechanics of GWENT's card battles. Alzur himself, the players have to get themselves way through a dangerous land, fighting to reach legendary monsters and collect precious mutagens to fuel their experiments. "
+2" The challenges they face along the way will require the skillful use of powerful spells and resources of combat represented by a vast arsenal of hundreds of cards. Advancing in the adventure will offer players the chance to earn legendary treasures, unlock achievements and climb online rankings, as well as customize
the difficulty of
the game with dozens of modifiers. "
" Due to its vast range and nature for single player, Rogue Mage is released separately from GWENT: The Witcher Card Game. An internet connection and the GWENT multiplayer client are not required to play - the expansion can be fully started in offline mode at any time. "
"Players can also use cross-saves, allowing them to transfer their progress across all supported platforms when logging in with a GOG account."
Have you noticed any errors?
---
GWENT: Rogue Mage PC system requirements are very forgiving, roguelike deckbuilder released
Who could have ever foreseen the immense popularity of the small card game known as Gwent when it first appeared in The Witcher 3 all those years ago? Now CD Projekt Red has created a successful multiplayer card game, and have even expanded beyond that into single player adventures...
GWENT: Rogue Mage is the latest single player expansion for the Gwent: The Witcher Card Game. Thankfully, it is completely standalone, but this time takes on the roguelike deckbuilder genre much like many popular indie titles of the past few years.
So now let's take a look at the official GWENT: Rogue Mage PC system requirements...
GWENT: Rogue Mage Minimum system requirements - 720pGWENT: Rogue Mage Recommended system requirements
You will need a Core i3-6100 or FX-6300 processor coupled with a GTX 660 or R7 265 graphics card in order to run the GWENT: Rogue Mage system requirements at the recommended level. This should then deliver around 60fps performance on High grapics settings at 1080p resolution. Recommended amount of RAM is 4GB.
Taking a look at the minimum system requirements you will need a GT 730 or R7 240 GPU with a Celeron G1820 or A4-7300 CPU to meet the minimum GWENT: Rogue Mage specs, which will likely be running on Low graphics settings at 30fps. Minimum target is 720p resolution. You will also need at least 4GB of system memory.
Overall, taking a look at the system requirements for GWENT: Rogue Mage, we recommend around a 10 year old PC to play at its best.
As ever, remember you can always check out how well your PC can run the GWENT: Rogue Mage System Requirements here, where you can check benchmarks and performance from other users. Compare your graphics card to the GWENT: Rogue Mage GPU benchmark chart and we also have a GWENT: Rogue Mage Frames Per Second system performance chart for you to check.