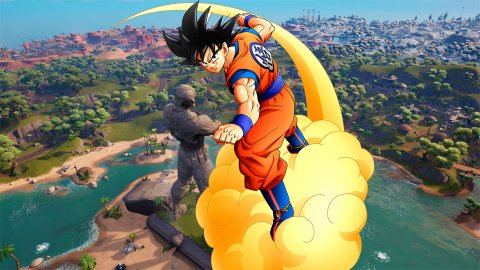 Fortnite x Dragon Ball Z
An indiscretion launched by Shiina, a well-known Fortnite leaker, may have revealed in advance three of the four
Dragon Ball Z
characters who
will arrive in
the Epic Games battle royale thanks to an alleged crossover event. According to the information shared by the deep throat, they will be Goku, Vegeta and Beerus.
As usual we talk about information to be taken with a grain of salt, but it must be said that Shiina in the past has been right on numerous tips of Fortnite. Furthermore, this new indiscretion has been corroborated by MidaRado, content creator who in the past has collaborated with Epic Games as well as with some sites in the videogame sector, such as Eurogamer.
There have been rumors of a crossover event between Fortnite and Dragon Ball Z for some time, with rumors intensifying a few weeks ago when an object was found in the game files of Epic Games' battle royale extremely similar to Capsule Corp ..
According to the information leaked later, the skins and related accessories of four characters from the famous work of Akira Toriyama should arrive in the Fortnite store. So in addition to Beerus, Goku and Vegeta there could also be a fourth character at the moment shrouded in mystery. Who will be? According to the comments on social media for many it is Broly, but also Gohan, Junior and Krillin are considered ideal candidates.
Have you noticed any mistakes?
---
Fortnite leaks suggest battle royale will get four Dragon Ball Z skins
18/07/22 More leaks have appeared online and appear to confirm three of the four Dragon Ball Z skins that will be availble in Fortnite. The text has been altered and added to in order to reflect this.
What's up, Fortnite fans? You'll never guess what? Epic Games is working on bringing yet another pop culture cosmetics collaboration to its' incredibly popular free-to-play battle royale shooter. Yeah, okay… While this revelation may not be as shocking as we wish it would be, what is worth mentioning is that this collaboration is going to be with an anime series. Following the success of the Fortnite x Naruto collaboration, which just saw a second set of four skins introduced to the game, leakers have uncovered more information to suggest a Fortnite x Dragon Ball Z collaboration is coming – and it's going to be just as big as the Naruto one.
Yes, you read that right. Dragon Ball Z skins are possibly coming to Fortnite. It's worth pointing out that Epic Games hasn't actually confirmed anything just yet, but reliable sources have been talking about this collaboration for a while now and they are very rarely wrong.
For a long time, the only information we had was that the collaboration was coming. Now, thanks to 'MidaRado' and 'HYPEX', Fortnite data miners and leakers, it has been revealed that there will be four Dragon Ball Z skins in Fortnite when the collaboration is released.
Why is this a big deal? Well, it means the collaboration is going to be a lot bigger than usual – and it could signpost an in-game event, too. The Fortnite x Naruto collaboration is a rare case, with a total of eight skins and associated cosmetics made available in-game.
Fortnite x Dragon Ball Z collab will have 4 DIFFERENT SKINS 🔥 (via @MidaRado)
Any predictions on what they could be? 🤔 pic.twitter.com/nhlxZwxY0a
— HYPEX (@HYPEX) July 11, 2022
Usually, these collaborations are limited to one or two skins. Take the recent release of Thor Love and Thunder skins for Thor Odinson and Jane Foster as a prime example – an example where, unusually, Fortnite players can only pick up the new Thor skins as a bundle. This is a collaboration where there's easily potential for at least four skins when you consider the fact that King Valkyrie and Korg were also main characters in the Marvel Studios movie.
Of course, we've seen quite a few more Marvel skins before then, but it's still important to note that if the leaks are true, the Dragon Ball Z skins collab is going to be one of the bigger ones we see in Fortnite.
Thankfully, it looks like the leaks are  true and further leaks from reliable source 'ShiinaBR' appear to confirm that Goku, Vegeta, and Beerus will be three of the four Dragon Ball Z characters to be included as skins in this upcoming collaboration.
CONFIRMED: These are 3 of the 4 upcoming Dragon Ball skins!
– Goku– Vegeta– Beerus
(Thanks to @MidaRado for confirming this!) pic.twitter.com/UvhNMkdsYM
— Shiina (@ShiinaBR) July 18, 2022
There's talk that Bulma will be the fourth and final Dragon Ball Z character to be included in this set of skins, but we don't know for sure just yet whether this is true.
But, at the moment, this is all unofficial so it's worth taking things with a pinch of salt. If you're looking for a hand while you wait, why not check out the latest on the Fortnite Indiana Jones challenges that hide a secret door at Shuffled Shrines? This could be some easy XP for you to grab while we wait for an official announcement.