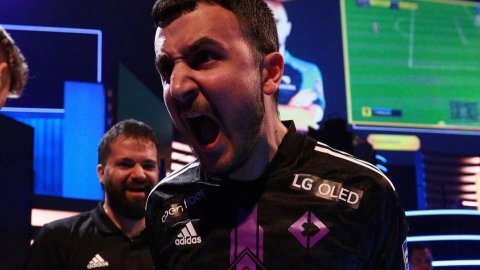 FIFAe World Cup 2022
Obrun2002, reigning Italian champion and member of Exeed, has signed one of the brightest pages of Italian export. In fact, no one had ever gone so far in the FIFAe World Cup 2022, the most important export tournament in FIFA 22.
The athlete in force at the Exeed today played the semifinals against the very strong Nicolas99FC, exiting all 'last minute. Despite two high-level matches, in fact, the Argentine found two goals in the last minutes that allowed him to first overturn the total count of goals (it was 2-1 for Obrun) and finally to score the winning goal. >
Despite the defeat, Obrun wrote one of the most beautiful pages of Italian
esports
, arriving where no one had arrived before him. A magical season for "Franco", winner of the second edition of the eSerie A TIM and also first in the European ranking. A placement in the FIFAe World Cup 2022 is a remarkable result, which projects him into the world elite of FIFA 22.
You can see the rest of the tournament with the commentary in Italian in the video player below, or the RiberaRibell channel, for Obrun there are still the third and fourth place finals:
Congratulations again!
Have you noticed any errors?
---
FIFAe World Cup 2022 is set for a thirty-two-player showdown
FIFAe World Cup 2022 kicks off July 14th, at the grand stage of Bella Arena, Copenhagen with $500,000 in prize pool at stake. Of which, only thirty-two qualified from the FIFA 22 Global Series, which boasted the participation of ten regions.
Since FIFA 22 is a solo game of strategies and planning, this makes the first-place prize of $250,000 look very appealing for an all-for-one celebration.
FIFAe World Cup 2022 Format and Players
As we start the clock counting down to July 14, when FIFAe World Cup 2022 begins, here's a drill-down into the tournament format. For starters, the Group Stage involves all thirty-two players, who are split into four groups of eight players.
It will be in 1vs1 mode in double round-robins, where the top four players from every group advance to the Knockout Stage. As for the point system, winning the round rewards 3 points, drawing receives 1 point, while losers receive zero points.
For the uninitiated, the FIFAe World Cup 2022 is relatively similar to its athletic counterpart, FIFA World Cup. Teams play to score goals, which incur points until the timer runs out. However, there's a different take in FIFAe World Cup 2022, whereby a single player manages the entire team and there is no extra time/penalties. The Knockout Stage will be of single-elimination, and all matches are played over two legs.
Favorites at FIFAe World Cup 2022
Similar to actual FIFA, where Lionel Messi is a fan favorite, the FIFAe World Cup 2022 also has its favorites. After a two-year hiatus due to the pandemic, the FeWC 2022 became a wild west of new talents. There are no past world champions, who made it into FeWC 2022, so it's any player's game to win.
Top candidates in respective groups
Even so, there are phenomenal candidates worth an honorable mention, such as Paulo "Paulo Neto" Neto. Residing in group A, Paulo has a fine record of winning first in various Global Series. If there's any opponent to give Paulo a run for his money, it's Levi "LevideWeerd" de Weerd from Team Gullit. The team prides itself on the prodigies they nurtured, such that three players made it into FIFAe World Cup 2022.
Stefano "StefanoPinna" Pinna and Emil "Klenke" Klenke are iconic players from the year 2018-2019 World Cups, where they delivered exceptionally. We expected Group B to be tough, but with the presence of Donovan "Tekkz" Hunt, it levels the playing field. Tekkz is among the most accomplished eFIFA player in our book, where he won various FUT 19 Championships.
Diogo "tuga810" Pombo in Group C is the latest wunderkind to join the ranks of formidable eFIFA players. His momentum doesn't seem to be halting anytime soon, so it wouldn't be shocking if tuga810 prevails against stronger opponents. Speaking of the devil, Group C is arguably the most one-sided group, making it a challenge for even tuga810 to deliver. For instance, he's playing against seasoned veterans and eChampions League legends, such as Umut "Umut" Gültekin, Olle "Ollelito" Arbin, and the highly-regarded Nicolas "nicolas99fc" Villalba.
Group D features Manuel "Manuel" Bachoore from Team Gullit, but isn't limited to other more prominent faces. That list includes Dylan "DullenMIKE" Neuhausen, Christopher "Chris" Holly, and Matías "Matias" Bonanno from team Heretics, who have good records in FIFA 22 Global Series.
From the get-go, it's evident that the FIFAe World Cup 2022 is a gathering of veterans. However, young prodigies have also made their way into the spotlight. As such, this makes for an interesting rivalry between the fan favorites and newcomers.
Up next, keep the FIFA betting marathon going by watching the FIFAe Club World Cup 2022 and FIFAe Nations Cup 2022 on July 20-23 and July 27-30 respectively.