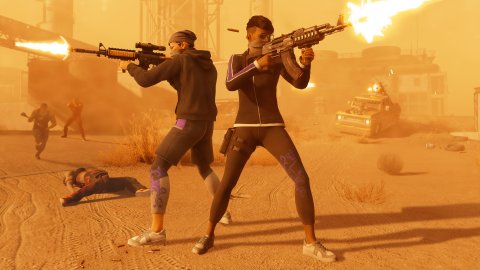 Saints Row
The minimum requirements for the PC version of Saints Row have appeared on the
Epic Games Store
, which apparently are not particularly expensive and will allow the game to run even on mid-range configurations.
Processor: Intel Core i3 3240, AMD Ryzen 3 1200 Video card: NVIDIA GTX 970 or AMD RX 480 Memory: 8 GB of RAM Operating system:
Windows
10 64 bit
The performance target of the requirements in question is 1080p and 30 fps, but by acting on the many graphic adjustments (revealed in an image in our test of the Boss Factory) and with a faster processor or GPU you can certainly get something more.
As you have certainly noticed, they are not present at the moment the recommended requirements, which will indicate the hardware components necessary to run Saints Row at the highest resolutions and with the highest quality presets, but as mentioned there are still a few weeks left to launch and therefore there is time.
The appointment ento with the reboot of the Volition open world action is set for 23 August, not only on PC but also on PS5,
PS4
,
Xbox Series X
| S and Xbox One. By the way, have you read our preview of Saints Row's quests and side activities?
Source Did you notice any errors?
---
Will There Be Multiplayer In Saints Row?
Saints Row is the first new game in the popular franchise since the release of Saints Row IV in 2013. Fans have been waiting for years for a proper follow-up to the successful fourth game. After nearly a decade, Saints Row developer Volition announced Saints Row at Gamescom in 2021. The new game will act as a reboot for the series as Volition tries to tone down some of the more wacky aspects that the games had become known for. Unlike Saints Row IV's all-out mayhem, Volition hopes to strike a tone closer to Saints Row 2. Naturally, with any reboot, fans have questions. Questions like, will there be multiplayer in Saints Row?
Saints Row will have cooperative multiplayer at launch. Players will be able to drop in and out of their friends' sessions to help them out with the missions in the game. Gamers will also be able to play Saints Row cooperatively across console generations. Meaning PS5 players can join their PS4 friends along with Xbox Series X/S and Xbox One players also being able to play together. There's no word on cross-platform (PlayStation and Xbox playing together, for example) support at this time.
There's also no competitive multiplayer announced for the game, and with just a few weeks until the release in August, it's unlikely that PVP multiplayer will be in the game.