iOS 16
We have now entered the hottest period of the year with regards to announcements and news on the video-audio theme, and more. The communication appointments of the various companies are numerous, and as the days pass we are getting closer and closer to major events such as the
Summer Game Fest
or the highly anticipated
Xbox and Bethesda
conference. In the meantime, however, just yesterday
Apple
held its annual event, within which iOS 16 and a series of news related to the world of gaming were unveiled.
From that which was unveiled in the past few hours, it seems that the Cupertino company is increasingly interested in embracing the world of gaming also on its products. With the Apple Arcade service a very important step has already been taken for the company, but thanks to the new operating system iOS 16
there will be
even more space for video game enthusiasts thanks to the new MetalFX.
!!! iOS 16 natively supports
Nintendo Switch Pro
Controllers !!
Can confirm they work perfectly with Delta pic.twitter.com/p8u1sdjvTt
- Riles ‍♂️ (@rileytestut) June 6, 2022
But the surprises do not end here at all, since the same user has kept updating his post on Twitter revealing how iOS 16 can also support a single Joy-Con and the Pro Controller for Nintendo Switch.
---
iOS 16 Introduces Entirely Overhauled Home App to Focus More on Reliability and Ease of Use
The Home app on iOS is getting a major overhaul with iOS 16, with Apple saying it's doubling down on reliability and ease of use.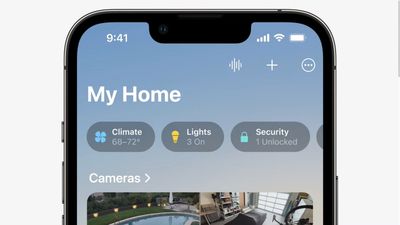 Apple says it has made changes to the 'underlying architecture' of the Home app to enable 'faster, more reliable performance, especially for homes with many smart accessories.'
With the new Home app redesign, all users' rooms are displayed on one single page, with easily glanceable widgets that showcase current accessories and their status. Pressing on a room takes users to a dedicated space with more details and controls.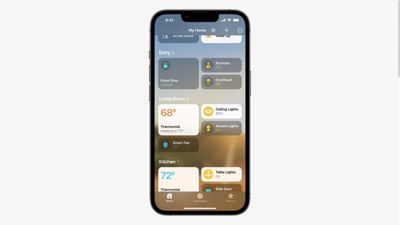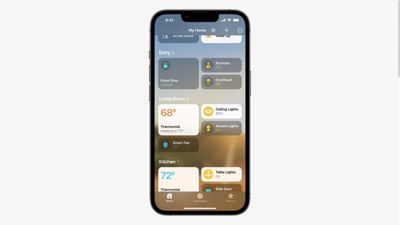 Along the top of the Home app, users get quick information at categories, such as how many lights are currently on, the temperature range across their house, what doors are unlocked, and more.
Categories are even more helpful, however, when they're tapped. When users tap on a specific category, such as security and cameras, they're shown all the active cameras around their entire home on a single page.
The Home app is also gaining new Lock Screen widgets that provide easy information right on the Lock Screen. ‌iOS 16‌ is currently available to developers and will be available to all users this fall.