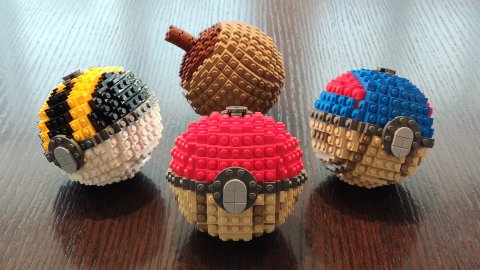 Legends Pokémon Arceus
OrangeTeam LUG, an Italian community officially recognized by LEGO, has created special Pokéball models made with the iconic bricks, which recreate versions of the capture tools in the style of Pokémon Arceus Legends. You can see a video above and an image below.
The video is dedicated to the (digitized) montage of a classic PokéBall, while the image shows the Apricorn, the basic PokéBall, arriving at the Mega Ball and at the Ultra Ball. In addition, anyone
will be able to
create the Poké Ball out of LEGO bricks themselves, thanks to the detailed construction manual available on the OrangeTeam LUG website. Assembling the model takes just over an hour, using about 400 bricks. https://orangeteamlug.it/news/istruzioni-free/52-istruzioni-poke-ball-pokemon-in-mattonincini-lego-by-otlug
PokéBall in LEGO style In the official press release we can read: " Pokémon Legends: Arceus represents a real revolution for the saga and all the individual innovations it presents to players make it a highly innovative gaming experience. Among these, the new capture system certainly stands out. Unlike what happens in the others videogame of the series, to try to catch the monsters it is enough in fact to point a wild creature and throw a Poké Ball, while exploring the vast open areas of Hisui. This new feature, in addition to the new RPG and action elements, has captured the 'attention of many new aspiring Trainers, and sparked the imagination of the skilled builders of OrangeTeam LUG. "
"In Pokémon Legends: Arceus, as members of Team Galaxy, players will visit the Jubilation Village, an animated settlement that serves as a base of operations. After receiving an assignment or request, they will depart from the village to explore one of the various areas that make up the Hisui region: at the end of each research expedition, which could lead them to encounter unique creatures such as alpha Pokémon and royal Pokémon, they
will return to
base to prepare for the next assignment. research, will also have the opportunity to stop at the base camps, which not only constitute the starting point of the expeditions, but are also very useful for resting, restoring Pokémon health or making tools using the do-it-yourself bench. "
" Also, thanks to the new content introduced with the latest free update, the journey to Hisui continues for fans of all ages, even after completing or the first Pokédex in the region and after contributing to the success of Team Galaxy. By updating the title, players can in fact access The New Dawn of Hisui, a mission in which they will have to investigate the mysterious massive extras of Pokémon around the region. They will also have the opportunity to challenge powerful opponents such as Legendary Pokémon and Captains, further expanding their experience in Pokémon battles. "
You can read our review of Arceus Pokémon Legends at this address.
Have you noticed any errors?
---
How to get all bonus outfits in Pokémon Legends: Arceus
Pokémon Legends: Arceus is brimming with life. This isn't the first time the series has gone full 3D, but it is a massive leap over prior games that, even with 3D models, stuck to an overhead and isometric viewpoint for most of the time. The last entries in the ever-popular Pokémon series did start introducing a more developed and expansive system for customizing your character. While older games, at best, let you pick your gender, we now have a host of outfits to style our trainers however we like.
There are plenty of clothing options to choose from in the stores in Pokémon Legends: Arceus, but not every single outfit is available right away or without doing a little work outside the game first. These bonus outfits won't make the game any easier or harder but are cool ways to express yourself while filling out your Pokédex. Some outfits are withheld for those who have played previous games and others are time-limited, so make sure you check out how to get all the bonus outfits in Pokémon Legends: Arceus as soon as possible so you don't miss out on any.
See more
How to get the Baneful Fox Mask and Hisuian Growlithe Kimono
These two have to be covered first since they're time-limited. There are only two options for getting these cosmetics, the first of which is to pre-order the game. Obviously, this is no longer an option, so we will focus on the second way.
Step 1: Purchase Pokémon Legends: Arceus before May 9, 2022. Hopefully, you already have the game if you're reading guides on it, but if not and the date hasn't passed, go get your copy ASAP!
Step 2: Open your Menu, cycle over to the Mystery Gift tab, and choose the Get via Internet option. This will, if it wasn't obvious, require you to be connected to the internet but does not require a Nintendo Switch Online subscription.
Step 3: Open up your free gift! Again, this all needs to be done before May 9. If you do not buy Pokémon Legends: Arceus or fail to claim your gift by this date, it is unclear if there will be an alternative method to get these bonuses.
How to get the Modern Team Galactic Set
The following bonuses are all tied to having saved data from previously released Pokémon games on your Nintendo Switch. If you haven't played the prior games required, you technically could purchase them, play as much or as little as you want, and just get a save file on your console to claim the outfits.
Step 1: Have save data on your Switch from either Pokémon Brilliant Diamond or Pokémon Shining Pearl.
Step 2: Go to the Clothes Shop and you will be told that a special package came for you with these items.
Hot to get the Shaymin Kimono Set
This will be nearly identical to the previous outfit set.
Step 1: Have save data from either Pokémon Sword or Pokémon Shield on your Nintendo Switch.
Step 2: Go to the Clothes Shop and you will be told that a special package came for you with these items.
How to get the Picashu and Eevee masks
Step 1: Have save data from either Pokémon Let's Go: Pikachu or Pokémon Let's Go: Eevee on your Nintendo Switch.
Step 2: Go to the Clothes Shop and you will be told that a special package came for you with these items.
Those are all the bonus outfits you can get for Pokémon Legends: Arceus. However, you can unlock an extra outfit if you're playing this game and Pokémon Go. Just boot up the hit mobile title, and you will have access to the iconic clothing used in all the promotional material of the newest game for your avatar.
Editors' Recommendations