Resident Evil Village: In the initial plans there were mermaids in the swamp, according to a well-known insider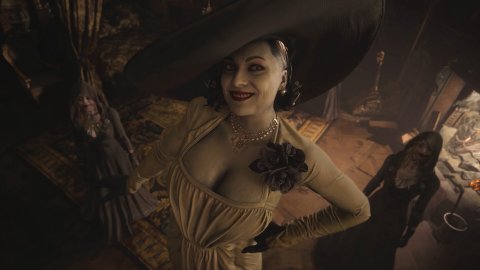 Resident Evil Village
According to information shared on Twitter by Dusk Golem, a rather well-known insider as far as Capcom productions are concerned, in the initial plans the
Resident Evil Village
players would have to contend with monstrous mermaids in the Moreau swamp. The idea, for one reason or another, was discarded but the concept behind it was quite interesting.
"In the water the mermaids could swim quickly if they spotted you and you had to reach the mainland or kill them before they reached you, "says Dusk Golem, who adds that the Resident Evil Village series were meant to be dangerous even out of the water.
" Even on land they could be annoying and used a screeching attack that you stunned and slowed down for a while. However, this attack served a second purpose, as the swamp had a stalker enemy. "
The siren's scream would then serve to attract the attention of this stalker enemy, described deep-throated like a giant slimy creature with lots of acid around its neck and shoulders somewhat similar to a Tyrant. He could spew acid on the player or hit him with the claws of his hand, representing the main threat of the area.
Still in the swamp, Ethan initially should have come across a group of Lycan and "witches" (who later became Lady Dimitrescu's daughters) intent on performing some sort of ritual in the area.
Apparently all of this content was eventually discarded to allow the developers to focus more on the Dimitrescu Castle and Heisenberg Factory sections.
Obviously taking this information with a grain of salt, as much as Dusk Golem himself is proven over time a rather reliable insider.
Have you noticed any errors?
---
An earlier version of Resident Evil Village reportedly had mermaid-style monsters.
A series of tweets from known Resident Evil leaker Dusk Golem claims that the swamp area of the game once featured mermaid-like enemies before it underwent a major rework.
Dusk Golem claimed that in this early version the player had to traverse through the swamp, choosing between walking on land or wading through water, while being stalked by 'a slimy-sorta Tyrant-like creature' that was likely Moreau, the area's final boss.
The mermaids would hunt protagonist Ethan while he was in the water and stun him on land, leaving the player wide open for an attack from the stalker.
Dusk Golem also said this version of the sequence had 'weird ritual type stuff' with Lycans and 'Witches', though these were essentially clones of Dimitriscu's vampiric daughters that Ethan fights earlier in the game.
Plans were allegedly changed for this portion of the game as developer Capcom didn't have the time or budget to bring it up to a high standard, instead opting to cut a lot of content.
Some of these ideas are reflected in the final version of Resident Evil Village though. The player is chased through a portion of the swamp by Moreau and the final fight against him isn't just an open boss-arena but instead features separate lanes that sound somewhat like this early version.
In our 8/10 review, we said: 'Resident Evil Village is a genuinely engrossing and increasingly combat-heavy continuation of the Ethan Winters story.'
Ryan Dinsdale is an IGN freelancer who occasionally remembers to tweet @thelastdinsdale. He'll talk about The Witcher all day.