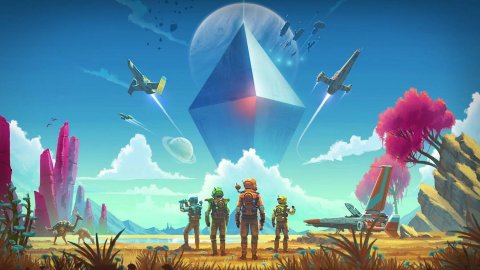 No Man's Sky
Despite having been six years since its release, Hello Games plans to further expand No Man's Sky
with new update
s. And in this regard, in these hours Sean Murray may have revealed a clue about the next free update, which apparently could be focused on space pirates.
As PCGamer reports, Murray has published a post on Twitter with the emoji of a pirate flag. He didn't add anything else, but that was enough to set the community's imagination in motion, with many believing that the Hello Games boss is a clue to the topic of the next update.
To be fair, pirates in No Man's Sky already exist, but their role is rather limited, as they are basically groups of AI-driven enemies to take down while exploring space. However, that may change with the next free update. On Reddit the hypotheses are the most disparate, from the introduction of a new faction formed by space pirates with related criminal activities, to a new system of bounties and outlaw spaceships, up to a themed PvP mode.
In short, for now we are in the realm of speculation, so we just have to wait for official news from Hello Games. No Man's Sky's latest update, Sentinel, has been available since last February, so there will probably be a few more months to wait before the next expansion.
Have you noticed any errors?
---
No Man - Bing News
The fervent No Man's Sky community was left with tons of question and some theories of their own this week after the game's creator dropped a tease consisting of just one emoji: A pirate flag.
BRICK - After the bugler finished playing "Taps," Dawn Tabish stood up to address a room full of mourners. She looked astonished. "The fact that you all came out is immensely, unbelievably ...