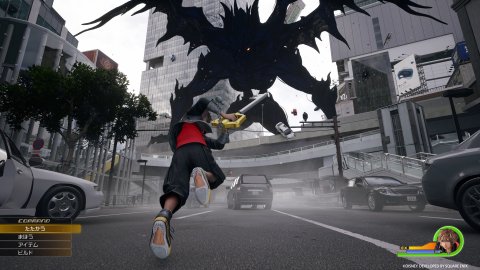 Kingdom Hearts 4 is official
After the presentation trailer, the official press release on
Kingdom Hearts
4 also arrives, which brings with it the
first images
and some more details on the new chapter of the series, announced in these hours in correspondence with the event for the twentieth anniversary of the series.
We have therefore seen the
first trailer
with gameplay for Kingdom Hearts 4, now we see three official images and some information coming directly from Square Enix,
waiting for
a further more complete presentation
dedicated to
the game.
As we saw in the video, Sora returns to the scene with a new look inside the world of Quadratum, a huge modern city characterized by a very realistic and close to the real world look, which represents a remarkable detachment from the tradition of the Kingdom Hearts series.
The new character who appears for the first time in front of Sora in this new setting is Strelitzia, while we also see Donald and Goofy struggling with a mysterious threat inside of an unidentified dark setting.
+1 The new story of Kingdom Hearts 4 kicks off what is called the "Lost Master Arc", which is also about the epic battle between Sora and the mysterious dark entity on the streets of Quadratum.
Have you noticed any errors?
---
Kingdom Hearts 4 is official: Watch the debut trailer
Kingdom Hearts 4 was announced during a Kingdom Hearts 20th Anniversary Event held in Tokyo, Japan on Sunday.
The debut trailer features Sora running through a city before a title card appears. Donald and Goofy also appear. Currently, no release window or platforms have been specified.
You can watch the trailer via the embed below:
Kingdom Hearts 4 reveal trailer
According to Square Enix, Kingdom Hearts 4 will mark the beginning of an "epic new storyline" titled the 'Lost Master Arc.'
Players are introduced to the Quadratum, which Square Enix describes as "a large, expansive city set in a gorgeous, realistic world unlike anything ever seen before in the Kingdom Hearts series."
The debut trailer sees the return of Sora's Disney companions Donald and Goofy, in addition to the first appearance of Strelitzia, who is described as "a mysterious new character who appears before Sora in this strange new setting."
A brief clip of what appears to be gameplay is shown in the video, with Sora running up buildings and flying through skyscrapers.
It's currently unclear which platforms Kingdom Hearts 4 will release on.
During the same event, Square Enix announced mobile spin-off Kingdom Hearts Missing Link, which it said will appear in specific regions this year via a beta.
"We're thrilled to celebrate the series' 20th anniversary with the announcement of two new Kingdom Hears titles," said series brand manager, Ichiro Hazama, in a prepared statement.
"We'd like to thank the fans for all of their support over the years, and we can't wait for them to experience all that's to come for Sora."
Walt Disney Games director Nana Gadd added: "Sora is an original Disney video game hero like no other, beloved by our team, and fans across the world. We've been honored to work with Tetsuya Nomura and his team for two decades to introduce these original stories of discovery, courage, and friendship.
"This glimpse into Sora's next adventure is just the beginning – we can't wait to show more when the time is right."
The Kingdom Hearts series of role-playing games, which were created through a collaboration between Square Enix and Disney, debuted on PS2 in March 2002.
The series has since appeared on several platforms and has shipped over 33 million units, according to publisher Square Enix.
The most recent series entry, 2019's Kingdom Hearts III, introduced worlds based on Pixar films for the first time, including Toy Story and Monsters Inc. It was also the first game in the series to be released for Xbox.
Kingdom Hearts protagonist Sora recently appeared as the final DLC character in Super Smash Bros Ultimate.
]]>