GTA 5: video comparison between PS5, Xbox Series X | S and PC, with details on resolution and framerate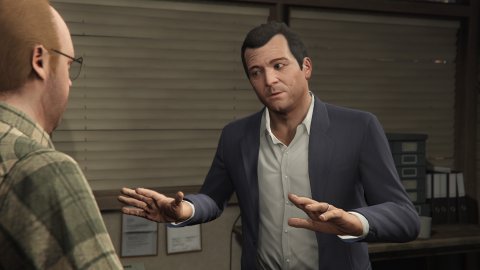 GTA 5
ElAnalistaDeBits has released a new video, this time dedicated to GTA 5 that compares the
PS5
,
Xbox Series X
| S and PC versions, also providing details on resolution, framerate and more of the next-gen console re-editions of the Rockstar Games game.
According to the analysis of ElAnalistaDeBits on the various graphic modes of GTA 5 for next-generation consoles, these are the results regarding
resolution and framerate
:
PS5 and Xbox
Series X
Fidelity: 2160p and 30fps Performance: 1440p at 60fps RT Performance: 1440p dynamic
Xbox Series S
Fidelity: 1440p at 30fps Performance: 1080p at 60fps
The mode Performance RT graphics, as explained in our analysis of next-gen versions of GTA 5 are limited to shadows only.
As noted in the video, all console versions of GTA 5 use the same textures and add new ones effects and improved lighting compared to the old gen counterparts. PS5 has an advantage over Xbox Series X as far as the framerate is concerned, stable enough even in the most hectic situations, where the
Microsoft
console instead has drops up to 45fps.
Also according to ElAnalistaDeBits, the Performance and Performance RT modes of GTA 5 seem to use a kind of temporal recostruction. The Fidelity mode, on the other hand, has better shadows, reflections and depth of field than the other two. The reflections are of a slightly higher quality even than the PC version.
The PS5 and Xbox Series X versions have better shadows and ambient occlusion than the old gen consoles and, in some cases, even the PC version. The latter version has denser vegetation and greater draw distance for assets, but not for shadows.
In general, for ElAnalistaDeBits the PS5 and Xbox Series X versions of GTA 5 are very similar to the PC version with Ultra settings. The youtuber equates these reissues with those of Ghost of Tsushima and Death Stranding.
Have you noticed any errors?
---
GTA 5 PS3/PS5 Graphics Comparison
Almost a decade after it first launched on Xbox 360 and PlayStation 3--and again on Xbox One and PS4 a few years later--GTA V is back once again with refreshed graphics on the newest generation of consoles. Having just launched on Xbox Series X|S and PS5, the game can now take advantage of newer technologies to render Los Santos and its inhabitants with even higher visual quality than ever before.
If you're wondering just how big of a difference there is between the game's original 2013 version and this latest edition, you can check out our comparison videos below of the PS3 and PS5 versions. On the newer consoles, GTA V now has multiple graphics modes, support for frame rates up to 60fps, and improved texture quality options.
You need a javascript enabled browser to watch videos.
Size:
Want us to remember this setting for all your devices?
Sign up or Sign in now!
Please use a html5 video capable browser to watch videos.
This video has an invalid file format.
Sorry, but you can't access this content!
Please enter your date of birth to view this video
By clicking 'enter', you agree to GameSpot'sTerms of Use and Privacy Policy
enter
There's also ray tracing, HDR options, and faster loading times, while the PS5 version has features like haptic feedback using the DualSense controller. Fidelity Mode is the highest visual quality option and can support up to 4K native resolution, while Performance Mode is your usual mix of 60fps gameplay and upscaled 4K graphics. Between those options, there's also Performance RT Mode which aims for a middle ground that offers upscaled 4K resolution with ray tracing at 60fps.
Right now you can grab GTA V with a nice discount on the PS5 and Xbox Series X|S digital stores, while GTA Online has a new standalone edition that is free on PS5 for the next three months. Check out our GTA V price breakdown here for more details, and for save progress, you learn how to transfer your data in GameSpot's GTA V migration guide.
GTA V has sold more than 160 million copies since 2013 and developer Rockstar Games recently announced that GTA 6 is in the works, with development on the project is 'well underway.'
GameSpot may get a commission from retail offers.