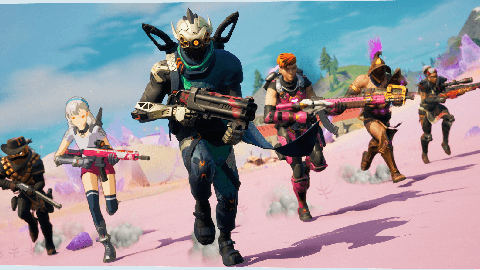 Fortnite, Chapter 3 Season 2
Fortnite will soon see the launch of Season 2 of Chapter 3: awaiting an official announcement with details from Epic Games, a leaker has revealed
the release date
and time of the season: March 20 at 7.00.
The new season could see the debut of
Doctor Strange in
Fortnite, according to the latest rumors, but one thing is certain: in correspondence with the update
there will be
a server down for some time, it is expected from 7.00 to 11.00 or so there.
Once the technical times necessary for developers to update the server-side experience have run out, players will be able to download an update and therefore start with Season 2 and its inevitable novelties, still shrouded in mystery.
Probably coinciding with the debut of the new season we will also see the publication of a cinematic trailer like those to which Epic Games has by now accustomed us, really nice and well done.
Source Have you noticed any errors?
---
'Fortnite' Season 2 Theories: All The Leaks And Rumors In One Place
Fortnite
Marvel
Something weird is going on with Fortnite Chapter 3, season 2. It is literally the day before it's supposed to release, and there have been no teasers from Epic, not even a launch time given. Very few actual leaks that appear to be legitimate, if any.
It's a very strange situation, but I wanted to go through some of the most common theories about what may be going on, and what might be coming.
The Silence – One main theory is that the "theme" of season 2 may be a war being waged against the Seven. And given the very real, very horrifying war going on in Ukraine right now, Fortnite does not want to actually advertise that kind of themed season ahead of time. They may not delay it because of that, but they may scale back their advertising from what we'd normally see, hence no teasers, hence maybe a more quiet launch tomorrow. But given that the war in Ukraine is likely to continue for a long time, it's unclear what path they'll take from here in regard to the season as a whole. But this makes the most sense in terms of why the season has neither been advertised, nor delayed, as delays really only come when Epic needs more actual time to work on things.
Doctor Strange – Easily the most common theory about a famous face coming to the battle pass is Doctor Strange, which will line up with the release of his Multiverse of Madness movie later this spring. Doctor Strange is one of the few big name Marvel characters that has not yet gotten his own Fortnite skin, now that Spider-Man has arrived, and it stands to reason he may also come with another missing hero, Scarlet Witch, given her role in his movie.
The Batman – Fortnite has a long relationship with Batman and DC as well as Marvel, and I've heard some talk about the game getting Robert Pattinson's version of the hero in the game as a skin at some point.
Obi-Wan Kenobi
Disney
Star Wars – Donald Mustard has been seen with various Star Wars items laying around lately, which are usually non-accidental clues. Fortnite has done multiple Star Wars crossovers in the past, and as recently as last season they did The Book of Boba Fett. Now, Obi-Wan Kenobi is coming to Disney plus soon, and I imagine we could get both a skin for him, and our first Darth Vader skin, as I know that's probably something Fortnite wants to add into its IP metaverse.
An Earthquake – Again, we have no indications a live event is coming, but between IO drilling and sinkholes all over the map, one big "reshaping" possibility seems like it could be a grand earthquake to destabilize the map and create new POIs. Given that the map has already seen volcano eruptions, meteor strikes and giant monster/robot fights, probably one of the more tame ways the map can be damaged at this point.
Everything else I'm seeing out there is more or less meme-ing about who may be coming to the game or what's going on. For now, Fortnite season 2 launches in silence tomorrow, unless we get a note about a last minute delay or reveal later today.
Follow me on Twitter, YouTube, Facebook and Instagram. Subscribe to my free weekly content round-up newsletter, God Rolls.
Pick up my sci-fi novels the Herokiller series and The Earthborn Trilogy.