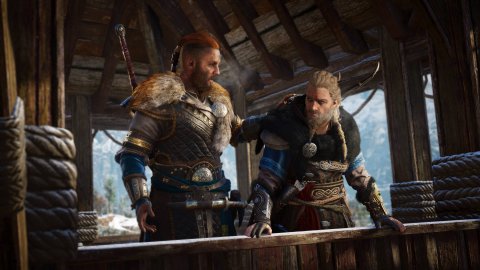 Assassin's Creed Valhalla, patch 1.5.0.1 available
Assassin's Creed Valhalla will receive patch 1.5.0.1 today at 13.00 Italian time: an update focused on improving performance and stability, which will come to weigh over 7 GB on PC.
Released probably in view of the upcoming release of Assassin's Creed Valhalla: Dawn of Ragnarok, set for March 10, the update actually boasts very different dimensions depending on the platform.
Assassin's Creed Valhalla, patch size 1.5.0.1
PC - about 7.54 GB
Xbox Series X
| S - about 2.90 GB Xbox One - about 2.30 GB
PS5
- about 0.50 GB
PS4
- about 2.62 GB
The efficiency of the data compression system available on PS5 is also surprising this time, which reduces the weight of the update to just 500 MB against the 2.62 GB of the PS4 version, to remain within the scope of the platforms
Sony
.
As for the details on the patch, the official changelog merely reports that it gets better re the performance and stability of the game, without further information.
Source Did you notice any errors?