Apple Watch and watchOS 8.5
In these hours,
Apple
has finally released iOS 15.4, which will probably also be the last important update for the operating system, before
the release of
iOS16 (scheduled for September, along with the new iPhone 14). Together with the update for the main operating system, watchOS 8.5 has also arrived.
The innovations introduced on the Apple Watch are many and remarkable, but one - for utility - stands out above all the others. With the new update it will finally be possible to restore the smartwatch using the iPhone. The requirement? Both must be updated to the latest software version available - and therefore iOS 15.4 and watchOS 8.5 respectively. Before the last update it was not possible.
The procedure to force restart can now be done using the iPhone, Apple explains with a new document (currently not yet translated into english).
The step-by-step procedure:
Make sure the iPhone is nearby. The iPhone must be updated to iOS 15.4 or a later version, it must also be connected to a Wi-Fi network and have Bluetooth enabled. You need to unlock your smartphone. Connect your Apple Watch to a charger Double click the side button (the one located under the circular Digital Crown) on your Apple Watch Follow the instructions that will appear on your iPhone Until now, the procedure could only be performed from the Apple Watch, by pressing at the same time and for about 10 seconds both the side button and the Digital Crown.
It is not the only novelty introduced by watchOS 8.5 which now, among other things:
Allows you to
authorize purchases and Apple TV subscriptions Can be used to store and display
COVID
-19 vaccination cards, directly from the Apple Wallet app. The function supports the EU digital certificate format Show new notifications regarding possible heart rhythm irregularities (currently not in Italy) Provides audio feedback when using Fitness +
It is the cheapest in the Apple catalog, but it still has everything you would expect from a quality smartwatch (and even a little more). The Apple Watch SE can be yours for less than € 270.
You can find
it on offer on Amazon!
---
iOS 15.4 and watchOS 8.5 Allow You to Restore an Apple Watch Using an iPhone
Apple today published a new support document indicating that iOS 15.4 and watchOS 8.5 allow an Apple Watch to be restored with a nearby iPhone.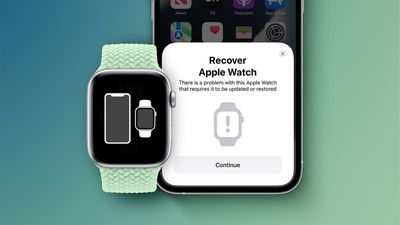 The support document states that if an Apple Watch running watchOS 8.5 or later displays an animation showing an Apple Watch and iPhone being brought close together, customers can follow the steps below to initiate the restore process:
1. Make sure that an iPhone is nearby. The iPhone needs to have iOS 15.4 or later, it needs to be connected to Wi-Fi with Bluetooth turned on, and it needs to be unlocked.2. Put your Apple Watch on its charger.3. Double-click the side button (the button below the circular Digital Crown) on your Apple Watch.4. Follow the steps that appear on the iPhone.
If the steps fail to work, Apple advises customers to check their Wi-Fi connection. Specifically, Apple says to try using a 2.4GHz network instead of 5GHz, and to avoid 802.1X or captive Wi-Fi networks, such as those in hotel rooms.
In an internal memo to Apple Stores and Apple Authorized Service Providers, obtained by MacRumors, Apple said this feature allows customers and technicians to restore watchOS on some Apple Watch models without the device having to be mailed to an Apple Repair Center. The memo did not specify which Apple Watch models support the feature.
Apple's support document said customers might see a red exclamation point on their Apple Watch instead. If this happens, Apple says to double-press the side button and then follow the steps outlined above. If the Apple Watch continues to display a red exclamation point, customers are advised to contact Apple Support to set up a mail-in repair.
iOS 15.4 and watchOS 8.5 were released today alongside iPadOS 15.4, macOS 12.3, tvOS 15.4, and HomePod software version 15.4.