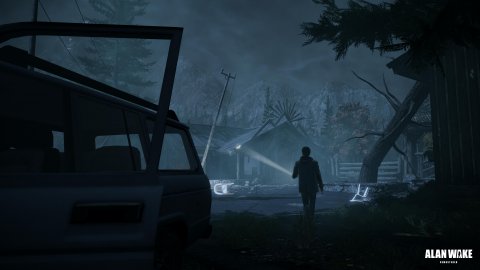 Alan Wake Remastered
Alan Wake Remastered
gets a new patch for its various versions, which among other things introduces support for auto HDR technology on
Xbox
and other changes, including stability improvements and various bug fixes.
The
Xbox Series X
| S version gets patch 2.0.0.5, which as a specific feature introduces support for Microsoft console-specific auto HDR technology, which basically applies a form of HDR a posteriori on the game, as happens with backward compatible titles , as well as several other new features.
The
PS5 and PS
a>4
versions get the 1.0.0.4 patch, while the Xbox One version gets the 1.0.0.9 update, which apart from the HDR auto correspond in most of the features.
In particular, there is talk of increasing the stability of the game and fixing various bugs and glitches, in particular one of Episode 2 which prevented the completion of the objective "Reach the top of the mill".
Among other things, some problems with the audio lag and with the mono output that could emerge during some cutscenes are fixed. Particularly interesting is the fact that the screen tearing visible on Xbox One seems to be mitigated, as well as several other adjustments.
In the meantime, it has emerged that Alan Wake Remastered has sold well, you can learn more about it in our review.
Source Have you noticed any errors?
---
Remedy Entertainment's Alan Wake Remastered released last year to solid critical acclaim and commercial success, and while the game was quite a complete package in terms of the visual improvements it made, a new update has touched it up even further, adding support for Auto HDR on Xbox Series X/S.
Players on supported machines should notice a considerable bump in visual quality thanks to a higher dynamic range following this update. In addition to this, the update also mitigates any screen tearing that might happen on the Xbox One. There are also a bevy of performance fixes, sound fixes, and UI improvements along the same lines. You can check out the full list of fixes down below, or on the game's official website through here.
Remedy has stated that sales for Alan Wake Remastered have "started well", although sales numbers haven't been revealed as of yet. There's also rumours of an imminent Switch release for the game as well, with multiple rating boards giving out ratings for it on the platform. Of course, a full-fledged sequel is also in development with Alan Wake 2, which is set for a 2023 launch for PS5, Xbox Series X/S, and PC.
Patch Notes: 
PERFORMANCE
PROGRESSION
Fixed the glitch where in Episode 2 players could not complete the "Reach the top of the mill" objective due to the lift clipping through the stairs
SOUND
Fixed the audio lag that was present in some cinematics (Xbox One)
Fixed the rare issue where cinematics audio would play in mono
VISUALS
Added auto HDR support (Xbox Series X|S)
Mitigated screen tearing (Xbox One)
General visual performance fixes
UI
Improved the resolution of the game icon (PC). It's prettier now