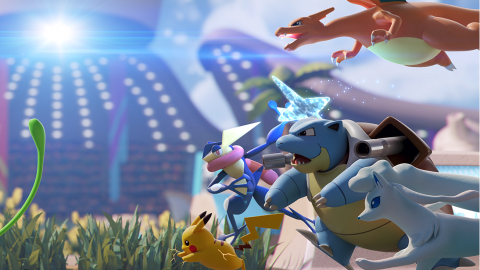 Pokémon Unite
Great Sunday afternoon based on
eSports
on the Twitch channel of geekinco. In fact, starting at 5pm today, December 5, 2021, the EIC Winter 2021 Pokémon Unite Qualifier # 1 will be played, a tournament organized by ESL Italy based on the famous free-to-play MOBA by TiMi and
Nintendo
.
This competition is designed to discover Italy's strongest pokémon team. Starting at 5pm, on our Twitch channel, the registered teams will start competing against each other in the best of 3 games. The tournament will take place in a double elimination playoff style and therefore with a loser bracket thanks to which the defeated team will have a new chance for the final victory. Given the particular nature of Pokémon Unite, all matches will last a maximum of 10 minutes and
there will be
no possibility of banning any pokémon.
The first 4 teams of the EIC Winter 2021 Pokémon Unite Qualifier # 2 will gain access at the EIC Winter 2021 Finals Italy which will be played next Sunday, December 12, 2021. The final prize of the competition is worth 1250 euros for the winning team, then 750 for the runners-up and 500 euros for the third and fourth places in the ranking.
All details can be found at this address. Will you watch it?
Have you noticed any errors?
---
Pokémon UNITE's roster expands to include Tsareena this month
Pokémon UNITE is heralded for the continuous stream of support that it receives from its developers. With new gameplay features, bug patches and fixes, Season Passes and new characters, Pokémon UNITE is a great start into the MOBA genre for the Pokémon franchise.
The latest new character in the game comes from Pokémon Sun and Moon, which is set in the Alola region, similarly to the last character, Decidueye. Tsareena, the Grass-type Pokémon, looks like it's going to be a strong contender in the game's roster, using close-range combat moves involving its strong legs.
As reported by Serebii, Tsareena is set to be available starting on December 9, 2021, along with a campaign that grants the license to play Tsareena for free if players log in during the campaign. So far no word has come out from official Pokémon social media sources yet, so all we have to go off of is the teaser trailer available for Tsareena. We'll be sure to update you when more information on this new content releases.
Team up!
Pokémon Unite
Unity is the key to success!
Pokémon UNITE is the first MOBA game in the Pokémon franchise. It's free to play, has unique customization options for both players and Pokémon, and features some of the most popular Pokémon in battles between teams of five.