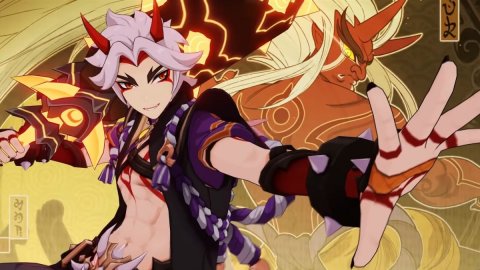 Genshin Impact
A few days after Arataki Itto's debut on
Genshin Impact
, miHoYo
has released
a new "character demo" movie, a video that showcases the fighting skills of the new playable character and offers some
details about
his background.
The video opens with Itto and his gang trying to recover his Vision, or the artifact that allows the use of elemental powers and represents a person's "ambitions", which delves into an interesting background on the character. already mentioned in some dialogues of the game. In fact, in Arataki Itto his Vision was confiscated after a fight against Kujou Sara, commander of the armed forces of Raiden Shogun, and he is willing to do anything to get it back.
Arataki Itto exploits the Geo element and fights with claymores. His Elemental Skill summons Ushi, a cute little bull who helps him out in battle by dealing Geo damage. The peculiarity of Itto is that his basic attacks give him a buff to perform more powerful Charged Attacks and a particularly lethal final blow. With his Elemental Burst, Itto's attacks become infused with the Geo element, the speed of the standard ones increases, and the attack increases in proportion to the character's defense.
Arataki Itto is a 5-star rarity character and will be available starting from Tuesday 14 December in the Oni's Desire banner, in which the 4-star character Gorou will also make his debut. From this point of view, the 1,600 Primogems that miHoYo is giving to everyone these days are welcome to celebrate the award won at The Game Awards 2021.
Have you noticed any errors?
---
'Genshin Impact' Reveals Arataki Itto 4 Star Rate-Up Boosts, New Noelle Claymore
Genshin Impact
miHoYo
Genshin Impact is gearing up for the release of its next batch of new heroes in a banner next week. The main draw is 5 star Arataki Itto, the Geo claymore-user, though he's always pictured with a giant club.
MiHoYo has just revealed the full banner for Itto, which also marks the arrival of Gorou as one of the 4 stars in the group, the Geo bow-user. Besides those two, the other 4 star rate-ups will be Barbara and Xiangling. Not great, if you ask me, as I have had those maxed for an exceptionally long time because of how often they appear. Getting Xiangling to max constellation, however, is really fantastic, and if you can make moves in that direction, I'd definitely keep her mind as a core team member, given all her off-battlefield capabilities.
But it's not just these new heroes coming. Players were also interested to note that Genshin Impact is releasing a new 5 star weapon that seems to be designed to be a signature weapon for Noelle. I mean, maybe not just Noelle, but it's easy to see how it synergizes with her kit. I think it's supposed to be Itto's, but if you can't grab him, it's going to be great on Noelle specifically.
It's the Redhorn Stonethresher, with Crit Damage as its base stat.
Perk: DEF is increased by 28% (at max rank). Normal and Charged Attack DMG is increased by 40% of DEF.
Since Noelle's attack scales on DEF, it's easy to see why this is going to be so good on her. But obviously it's probably a pretty great pick for Itto too. I believe his club is just a part of his moveset, not an actual weapon he wields, similar to the Raiden Shogun and her chest-sword.
Genshin Impact recently took home Best Mobile Game at The Game Awards, though it lost out on Best Ongoing Game to Final Fantasy XIV. Here in year two, the pace of content has really not slowed down much at all, and Genshin Impact, despite being a gacha game at its core, keeps producing a ton of story and exploration content that everyone can experience without spending money. But if you want to go for new heroes like Gorou and Itto? Either you have to save up a ton of in-game currency, or open up your wallet.
The new banner arrives this Tuesday or Wednesday, depending on your region. Stay tuned for more information.
Follow me on Twitter, YouTube, Facebook and Instagram. Subscribe to my free weekly content round-up newsletter, God Rolls.
Pick up my sci-fi novels the Herokiller series and The Earthborn Trilogy.