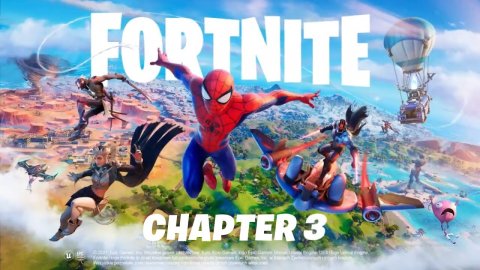 Fortnite Chapter 3
Through a leak we have the opportunity to see the official trailer of Fortnite Season 3. Unfortunately it is not available in English, so it is not possible to understand what the narrator is saying, but it still allows us to see the new map, new characters such as Spider-Man and various other game news.
Before everything, the trailer allows us to see the new map of Fortnite Chapter 3 through a quick camera movement. A good part of the southern region of the map
seems to be
covered in snow and
there is no
shortage of new places and a different conformation of the areas already known.
Fortnite Chapter 3 will then continue with the collaborations, proposing first of all Spider-Man, probably also to advertise the new movie from
Marvel
and
Sony
. But there
will also be
Kait and Marcus from Gears, the
Microsoft
saga.
Speaking of game mechanics, there are new destructibility options guaranteed by
Unreal Engine 5
. For example, we can see that, by cutting down one tree, it can fall on another and destroy it. The interaction with the environment could therefore be much more elaborate and more strategic. Then there is the possibility of sliding and not even the beloved and hated grappling hook, to move quickly around the map.
As always, we expect new weapons and items to use in battle. For a complete and official announcement we will probably have to wait a little longer, precisely until the conclusion of the final event of Chapter 2 which will then kick off Fortnite Chapter 3. What do you think of the new features shown in this video?
Source Have you noticed any errors?
---
Warning: 'Fortnite' Chapter 3 Map, Battle Pass Skins And Trailer Leak Online
Fortnite
Epic
Epic Games went so far as to specifically ask leakers not to leak Fortnite Chapter 3 content ahead of the event at 4 PM ET today, but as ever, something leaked all the same. And it was from Epic itself, the Polish YouTube channel, which accidentally put the entire Chapter 3 battle pass trailer online early.
The trailer, which I will not post here, but is easy enough to find on social media, reveals the new map, new battle pass skins and new items and features coming this season, so if you don't want anything spoiled I would stay off the internet until the event later today.
I am going to be talking about what was shown in the trailer, below, so there are also spoilers for the rest of this article.
The catalyst for the new map
Epic
There is indeed a new map, this one built in Unreal Engine 5, as Epic transfers over to that for the new season. We see forest, snow and desert biomes, which is not that unusual. So far, no sign of carryover landmarks like we saw between the last two maps. There's a giant statue of The Foundation, who appears to be a key figure in the creation of this new world. A previous leaked spot implies the current island flips over, and this one is on the underside of the old one.
There is a new weather system that shows giant world weather events like tornadoes and severe lightning storms.
There is a new swinging mechanic that may be based on a new item. There's a pop up tent you can throw that is full of gear. I think you might be able to store extra gear in it (keep in mind the narration is all in Polish, which may be explaining some of this stuff). You can now slide down hills a pretty great distance.
Once again, a Marvel hero is leading the battle pass this season. That would be Spider-Man, who is shown with three outfit variants, including the Symbiote Suit. I believe he's responsible for the new web-swinging mechanic. The Daily Bugle has also made its way into the game. This is no doubt not an accident given that Spider-Man: No Way Home is being released later this month. The game already introduced Venom and Carnage before this.
Other skins include a host of Epic originals we haven't seen before besides The Foundation himself. The other licensed skins of note are Marcus Fenix and Kait Diaz from Xbox's Gears of War series, joining Master Chief who is already in the game with a crossover a long while back.
So yes, Chapter 3 looks very transformative. A new map was guaranteed, but there are new movement mechanics, new weather effects and the entire port to Unreal Engine 5 may open up even more things we may not yet know about, or have a hard time processing in this trailer.
This trailer showing up now also implies that we are probably not in for lengthy downtime for days like when Epic shut the game off between Chapter 1 and Chapter 2 for a while. Probably some downtime, sure, but I would expect players will be able to hop into Chapter 3 pretty soon after the event. A few hours, or maybe the next day at the latest. We'll see.
See you at 4 PM ET to say goodbye to the Chapter 2 map.
Follow me on Twitter, YouTube, Facebook and Instagram. Subscribe to my free weekly content round-up newsletter, God Rolls.
Pick up my sci-fi novels the Herokiller series and The Earthborn Trilogy.