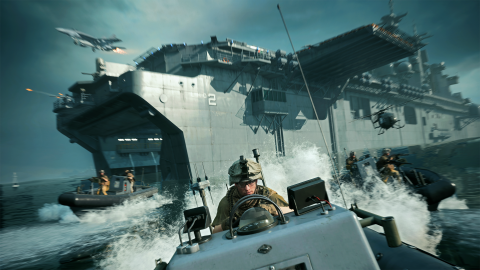 Battlefield 2042
Among the fixes and changes introduced with the
Battlefield 2042
Update 3 there is also a novelty that DICE probably wanted to keep hidden for a few more days. The update has indeed revealed the arrival of a series of skins for characters and vehicles with a Christmas theme and beyond.
Those who managed to download and install the new patch as soon as it is available and access the servers of game, they may have noticed some costumes and camouflages, many Christmas themed, for Specialists and vehicles, such as tanks and helicopters, on the customization screen. The skins were locked, as they will likely be part of the pre-Season 1 rewards. Let's talk about them in the past, because DICE removed them shortly after the update was released. In any case, you can admire them in the Reddit threads below.
Reading the
comments on
Reddit, many have not welcomed this news with open arms. There are those who complain that DICE is already thinking about special skins where Battlefield 2042 still has several problems that need to be solved, while others do not appreciate costumes so over the top, accusing DICE of wanting to copy what Fortnite
and Warzone
did.
In the meantime, DICE is investigating problems with servers born after the publication of Update 3, with many players unable to log in and consequently access multiplayer.
Source Did you notice any errors?
---
'Battlefield 2042' Has Lost 70% Of Its Players In Two Weeks On Steam
Battlefield 2042
Steamchart
To say Battlefield 2042 has had a rough go of it since launch is an understatement, and players are fleeing from the game at such a rapid pace, its long-term sustainability might be in question.
Players seemed to universally think that Battlefield 2042 needed more time when it arrived for early test play, but it went ahead with its November 19 official launch all the same. As expected, it arrived with technical issues and missing features players had come to expect from the series, and it has seen rapid declines in interest since then.
In just under two weeks since launch, Battlefield has lost 70% of its players on Steam, going from a peak of around 100,000 to 30,000, as of its peak yesterday. It's only outperforming Battlefield V by 10,000 players or so at the moment, and being beaten by the likes of Faming Simulator 22, Payday 2 and Red Dead Redemption 2.
Battlefield 2042
EA
The concern is that if Battlefield 2042 continues this trend and its playerbase shrinks unsustainably, that not only affects things like matchmaking, but some worry EA will offer less support for it in the future. And this is a frankly bizarre conversation to be having just two weeks after a game like this has launched.
While Battlefield 2042 has plenty of its own issues, it certainly did not help that Microsoft surprise launched Halo Infinite during its release week, which sucked all the oxygen out of the room, and caused legions of players to flock to the rival shooter, which is free-to-play, over the paid Battlefield, a full $60 despite not including a campaign.
Battlefield 2042 was meant to be an experiment of what happens when you take a game like this, ditch the campaign entirely, and just focus on multiplayer. But EA's desire to get it out for the holiday season at all costs meant that it simply was not ready for release, and DICE has had to spent a huge amount of time fixing its issues or promising to restore cut "legacy" features.
Call of Duty isn't exactly having a super blockbuster year with Vanguard, but they lucked out with all the issues Battlefield 2042 has faced. The real shooter "winner" so far has clearly been Halo, even before the campaign release next week, where that game's main problems are not technical or gameplay based, but only complaints about its battle pass and microtransactions, which are pretty easily remedied.
We'll see what the future of Battlefield holds, but word is that DICE is concentrating solely on Battlefield, and leaving Battlefront on ice for a while, and we'll see if they can get out of this 2042 era slump next time around. Or salvage this current game before it's too late.
Follow me on Twitter, YouTube, Facebook and Instagram. Subscribe to my free weekly content round-up newsletter, God Rolls.
Pick up my sci-fi novels the Herokiller series and The Earthborn Trilogy.