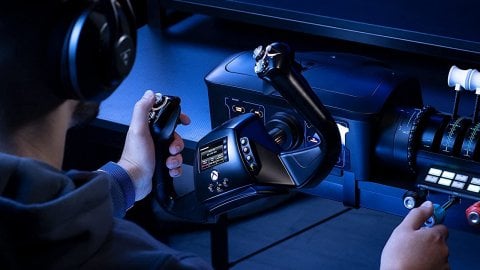 Turtle Beach VelocityOne Flight
The advanced Turtle Beach VelocityOne Flight controller is among the most pre-ordered Turtle Beach devices ever, with 21,000 requests that have run out of stock in the company in a flash prepared for launch on November 14th. But new stocks will also arrive, with pre-orders also open at Amazon's Turtle Beach store and revealing the likely arrival date of the new stocks, indicating actual availability for December 10, 2021.
Offer Amazon Turtle Beach Velocityone Flight - - € 379.99
View Offer
Developed with the help of aeronautical engineers and pilots, the Turtle Beach VelocityOne Flight controller from Turtle Beach is designed for
Xbox
, making it compatible with both Xbox One and
Xbox Series X
| S, and with
Windows
, covering the entire spectrum of machines capable of running the spectacular Flight Simulator .
The Turtle Beach VelocityOne Flight Controller Promises a Realistic Experience with Any Type of Aircraft Features include a realistic 180-degree rotating joystick, four-handcuff dial with interchangeable hoods, integrated compensator, HAT and color display ri, managing to faithfully reproduce both the flight controls of light aircraft and those of heavy jets.
Have you noticed any errors?
---
Pre-Orders Are Available For Turtle Beach's VelocityOne Flight Controller
Turtle Beach Corporation is a leader in peripherals in the gaming industry and is known for its premium audio products that give players a competitive edge on the battlefield. The company has officially announced that the VelocityOne Flight simulation control system, designed for the Xbox One and with flight simulators in mind, is available for pre-order. The VelocityOne Flight control system marks Turtle Beach's entry into the simulation hardware market and seeks to provide an all-in-one experience for Microsoft's Flight Simulator.
The VelocityOne Flight is the perfect system for simulation enthusiasts and intends to give Xbox and PC users a complete experience to control their game for flight simulators. Turtle Beach collaborated with aeronautical engineers and pilots to give an authentic feel, intuitive and responsive controls and much more. The control features a yoke handle with rudder controls, modular throttle quadrant and swappable lever handles for customization and a true flight experience. The VelocityOne Flight also offers ease of use, as its USB offers a smooth and quick set-up process on both Xbox and PC platforms.
Juergen Stark, Chairman and CEO of Turtle Beach Corporation, stated, "We had over 21k fans sign-up to be notified when pre-orders were available so if you've been considering upgrading your current PC flight sim hardware or you're interested in playing Flight Sim 2020 on Xbox Series X|S, reserve your VelocityOne Flight now because interest is very high…As a pilot and hardcore flight simmer myself, my experience with VelocityOne Flight has been nothing short of fantastic. We've seen similar interest and anticipation from the flight sim community as well as from gamers looking forward to experiencing the thrill of flight for the first time on Xbox. VelocityOne Flight will deliver the most realistic simulation experience on Xbox and PC, and pre-ordering now will be the best way to ensure you get one first. For the great price of $379.95, there's nothing else like it."
The VelocityOne Flight control system is currently available for pre-order here, at the price of $379.95USD. It is available on the Xbox One and Xbox Series X/S as well as PC.
Are you interested in the release of the VelocityOne Flight Controller? Are you going to pre-order? Let us know in the comments below or on Twitter and Facebook.
SOURCE: Press Release