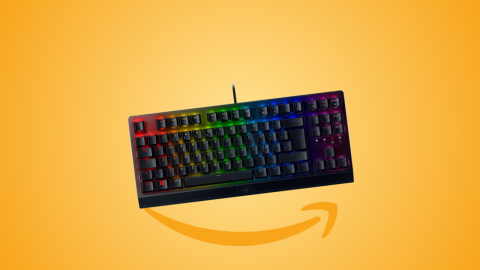 Razer BlackWidow V3
The
Amazon offers
of the Early Black Friday 2021 offer us a gaming keyboard on Amazon, the Razer BlackWidow V3 Tenkeyless. The discount is € 24.70, or 22%.
Amazon Offer Razer BlackWidow V3 Tenkeyless - Mechanical Gaming Keyboard, Compact Gaming Keyboard with Mechanical Switches, ... € 109.99 € 85.29
See Offer
The full price reported by Amazon for a Razer BlackWidow V3 Tenkeyless is 109.99 €. However, the actual price, in the last month, was lower, with various offers that have brought it to 87 - 92 euros. Today's is the best offer ever to appear on Amazon. The product is sold and shipped by Amazon.
The Razer BlackWidow V3 Tenkeyless is a mechanical keyboard with 16.8 million colors and a full suite of effects. This keyboard lacks a numeric keypad. It features grooves that allow you to store cables and route them in any direction to keep your desk uncluttered and tidy. Furthermore, it is possible to map the functions through Razer Synapse 3.
We also point out that the Telegram Channel dedicated to geekinco offers is available. Follow it to be always updated on the latest offers selected by our editorial staff!
Razer BlackWidow V3 Tenkeyless This news includes a link with an Amazon affiliation that can earn a commission to geekinco.
Have you noticed any errors?
---
Costco members can grab this Razer Heroic bundle with four highly-rated products down to $120
Around this time of the year with the holidays coming up we tend to see a lot of 'bundles.' Usually these bundles have one or two decent products and a couple of bad products thrown in there just to make you think you're saving money, when in reality the manufacturer is dumping off some junk that doesn't sell. That is absolutely not the case with this Razer Heroic gaming bundle on sale for $119.99 at Costco. All four products are highly regarded, and they would cost you as much as $235 if you bought them individually. You will need to be a Costco member to see the price, and it's hard to say how long this deal will last.
Razer Heroic gaming bundle | Save $115
The bundle itself was already great before today's discount, but now you're saving even more thanks to Black Friday. Everything in this is worth using, and it would make a great gift for a budding PC gamer who needs new peripherals.
The bundle includes the Razer Blackwidow V3 keyboard, the DeathAdder V2 Pro wireless mouse, the Gigantus V2 large mouse pad, and Razer's Universal Grip Tape.
We reviewed the DeathAdder V2 Pro last year and called it the 'perfect wireless gaming mouse.' Richard Devine gave it 4.5 stars out of 5 with a Recommended badge and said, 'It's lightweight and extremely comfortable to use, the built-in storage is a bonus particularly for anyone who uses multiple PCs, the performance from the sensor is blisteringly fast and accurate and you could never tell this was a wireless mouse without actually seeing there's no cable coming out of it.'
The BlackWidow is one of Razer's most popular product lines, and we've reviewed several of these keyboards including the BlackWidow Lite and the BlackWidow V3 Mini, which we actually consider one of our favorite keyboards. The BlackWidow V3 is a well-designed keyboard with Razer's Green mechanicalswitches, Razer Chroma for the ultimate customization, and doubleshot ABS keycaps that last for a long time.
Add in the Gigantus V2 mouse pad with its micro-weave textured surface and non-slip base along with Razer's Universal Grip Tape that lets you add a textured, sweat-absorbent surface to any device, and you've got a recipe for success.
We may earn a commission for purchases using our links. Learn more.