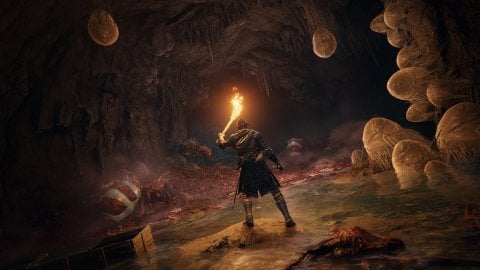 Elden Ring
The closed beta - or more precisely the "Network Test" - of
Elden Ring is
coming. Bandai Namco and FromSoftware are therefore sending invitations to this trial phase to players selected (randomly) from those who have become available. Now, the development team says invitations should be on the way and we should check our emails.
As
you can see
in the tweet below, FromSoftware's official Twitter account writes: "To our international players : Thank you very much for subscribing to the Elden Ring Network Test. Those who have been selected will be notified by Bandai Namco Entertainment, so please wait for more announcements. "
Unfortunately it is not said exactly when all invitations to the Elden Ring closed beta will be sent, so starting today, player
s will have
to pay attention to their email. We remind you that the days during which the beta will be active are the following:
November 12: from 12:00 to 15:00 November 13: from 04:00 to 07:00 13 November: from 8.00 pm to 11.00 pm November 14th from 12.00 pm to 3.00 pm November 15th: from 4.00 am to 7.00 am
So let's assume that by 11 November the invitations will be at their destination. Tell us, have you already received your invitation? Or still nothing? Finally, here are the classes available in the closed beta.
Source Did you notice any errors?
---
Elden Ring Will Run 'Up To' 60 FPS on New-Gen Consoles and PC
Bandai Namco has said that Elden Ring players can expect to see the game run at 'up to' 60 FPS on new-generation consoles and PC when it launches in February.
The publisher confirmed some of the game's performance features on the Edlen Ring website. Perhaps to the disappointment of some players, the game's framerate on PC won't be uncapped at launch and instead will be limited to 60 FPS.
According to the publisher, new-generation consoles will also be able to reach up to 60 FPS, though that does come with a small caveat. In order to push the PS5 and Xbox Series X|S toward that figure, Bandai Namco has indicated that players may need to run the game in performance mode - a feature that will adjust the game's screen resolution and load balancer to approach higher framerates.
While news of Elden Ring's 60 FPS framerate cap may not be what PC players were hoping for, there's still plenty to look forward to. As per the guide, both PC and new-generation console players will be able to run the game at a 4K resolution and have access to HDR support when it launches.
Ray tracing is also being made available on those formats, though Bandai Namco says that this will be via a patch and that it won't be available to Xbox Series S players. At present, the publisher hasn't clarified whether this patch will arrive on launch or at a later date.
Despite the fact that last generation consoles won't have access to Ray Tracing features in the game, the majority will be able to benefit from HDR support, and consoles such as the PS4 Pro and Xbox One X should cater to resolutions up to 4k. That being said, whether accessing the game at 4k or a lower resolution, the framerate on last-gen systems will be limited to 30 FPS across the board.
For a closer look at how those figures correlate to actual gameplay, make sure to check out this piece breaking down the recently released gameplay footage that FromSoftware showed off from the game.
Jared Moore is a freelance writer for IGN. You can follow him on Twitter.