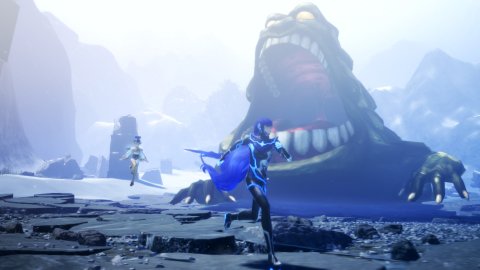 Shin Megami Tensei 5
Atlus continues to offer its videos dedicated to
Shin Megami Tensei 5
and to the creatures that we will
be able to
face to capture within the adventure. The JRPG for
Nintendo
Switch shows us Abaddon today, in trailer number 156, which
you can see
above.
Abaddon is the demon of the abyss and is a sort of blob with a huge toothed mouth and two yellow eyes. His face is almost human, but his features are certainly monstrous. Abaddon first appeared in Shin Megami Tensei in 1992. Speaking of his appearance in Shin Megami Tensei 5, however, we know that he will have access to various types of attacks, such as physical strikes, fire, but also various abilities to debilitate enemies. .
Through some trailers we got to see other creatures by Shin Megami Tensei 5. For example, we saw Setanta, but also Kikuri-Hime, Sarasvati, Flauros, Dominion, Mitra, Basilisk and Genbu.
If you can't wait to get your hands on Shin Megami Tensei 5, we recommend you read our special:
Shin Megami Tensei V
, everything you need to know about the new JRPG for Switch.
Source Did you notice any errors?
---
Atlus has released a new trailer for Shin Megami Tensei 5, introducing the English talent that will be voicing its colorful cast. Some of the more noteworthy talent includes Cissy Jones who voiced Delilah in Firewatch – she'll be the voice of Abdiel here. Daman Mills, who voiced Weiss in Final Fantasy 7 Remake: Intergrade and who's voiced numerous characters in anime, will be voicing Aogami.
Other actors include Jeannie Tirado of Resident Evil Village and Bugsnax fame voicing Tao Isonokami. Mark Whitten, who voiced characters in Lost Judgment and Scarlet Nexus, playing Yuzuru Atstua while Ashlyn Madden, who voices Neera Li in the Freedom Planet series, is playing Miyazu Atsuta. There's some pretty strong talent overall.
Shin Megami Tensei 5 is out on November 11th for Nintendo Switch. For more details on the exploration, especially in the world of Da'at, head here. The role-playing title is also confirmed to feature a free Safety Mode DLC to provide an easier time for players.