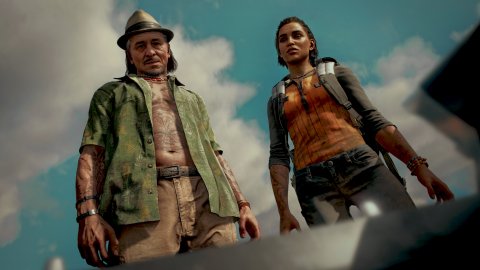 Far Cry 6
Does
Far Cry 6
run better on PC, PS5 or
Xbox Series X
| S? You probably already know the answer, but apparently it wasn't so obvious: the inevitable technical analysis carried out by Digital Foundry takes care of it.
In the Far Cry 6 review we mentioned the optional Texture Pack also on next-gen console and the introduction of 60 fps, which actually substantially improves the gaming experience compared to the episodes on
PS4
and Xbox One.
Far Cry 6 resolution on console is dynamic and sees Xbox Series X has a slight advantage over PS5 with a range that goes from 1872p to 2160p against the 1728p / 1872p of the Sony machine. Less brilliant, of course, Xbox Series S which moves from 1080p to 1224p.
Well, in terms of image quality, the differences between PC,
PlayStation
5
and Xbox Series X
are not many where you avoid considering ray tracing, available exclusively on the
Windows
platform.
The sophisticated technology produces little effect on shadows, but acts in an important way on reflections and literally transforms the scenery, especially in situations where the sun is rising or setting , adding great depth to Yara's panoramas.
Source Did you notice any errors?
---
Far Cry 6 may be teasing a Far Cry battle royale or survival game
A new Far Cry spin-off may have been teased within Far Cry 6, as players are discovering. Hidden in the game are QR codes that, when scanned, seem to show a video for some sort of Far Cry battle royale or survival game – although when that will happen is another matter.
Far Cry 6 was released by Ubisoft last week and, despite definitely coming with some problems, at least offered a new open-world paradise for players to explore. Observant players who have been digging into Yara may have spotted QR codes in certain places, such as on some wooden crates.
As detailed by JorRaptor on YouTube (thanks The Loadout), scanning these codes with a phone in real life brings up some short teaser videos. The most cryptic of these shows a cartoon revolver chamber character, a map with various counters suggesting wildlife and multiple players, and an armoured cat attacking either a player or a soldier. The three red arrows suggest players in some sort of multiplayer mode, at least.
JorRaptor suggests this may be a battle royale, which is possible, but the emphasis on animals seems more in the style of a multiplayer survival experience. The map itself features a location called Sky Temple and ancient ruins, and brings to mind Far Cry 4 – the setting of which players will return to in an upcoming DLC for Far Cry 6, although that probably won't have multiplayer.
It's certainly possible this could be a tease for a new upcoming Far Cry project, although like the similar Watch Dogs 2 teaser for space game Pioneer it may never happen. We'll have to wait and see, but we're sure the announcement of a Far Cry battle royale game will go down just as well as Ghost Recon Frontline did.