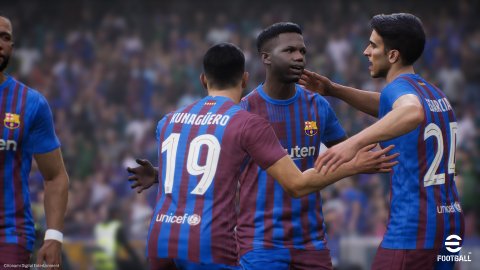 eFootball 2022
The first major update of
eFootball 2022
will arrive
on October 28, 2021, as announced by Konami, which took the opportunity to apologize again for the state of the game. It will be version 0.9.1 and will focus on solving the many problems reported by users.
Unfortunately Konami has not provided any
other details
, so the actual contents of the patch are not known, which could be of any kind. However, it has promised future updates to give more information, so we just have to wait.
Many are wondering if the problems of the passes and those of the faces of the players will be solved, but also all the others that plague the game. After all we're talking about the game with the worst rating on Steam, so there really is a lot to fix. There are also many funny reviews posted by players, which clearly testify to the state of eFootball 2022.
Launched with very little content, few modes and a large amount of problems, eFootball 2022 has infuriated many players, especially those who were fans of the PES series.
Have you noticed any errors?
---
eFootball 2022 Review in Progress
eFootball – Konami's rebrand of the long-running Pro Evolution Soccer series – could have signaled a bright new beginning for football games. Shifting to the more modern Unreal Engine 4 and ditching annual full-priced games for a free-to-play model with promises of sizeable content additions and a "pay for what you want" structure felt like steps in the right direction, moving away from the frustrations that come with annualised sports games. Instead, it's hard to think of a rockier start to life it could have had. Launching as essentially a demo with very limited modes, stuttering gameplay, laughable crowd models, and more than a few bugs and glitches, it's very hard to recommend eFootball in its current form. So I won't. All we can do is hope Konami cleans up its mess with the big updates it's promising.
Things start promisingly when booting up eFootball for the first time. Gone are the dated menu screens that Konami had been hanging onto like the '70s wallpaper your grandma refused to get replaced for all those years. In comes a splash of colour and an ever so slightly more modern feel to proceedings. Sadly, what lies inside these menus is a lot less exciting.
eFootball has launched with two main modes, one offline and one online. The former is your standard exhibition match, allowing you to play as nine different teams from Europe and South America. This is a good place to get to grips with eFootball's gameplay but very quickly loses its appeal due to the limited number of clubs on offer and the minimal stakes attached to each match. Also, bafflingly, only the regular and superstar AI difficulties are available currently, with all four of the other options greyed out and unselectable. Have these just not been programmed yet? It's odd, to say the least, but becomes truly frustrating once you find yourself comfortably being able to beat the regular, only for your only other option now being having your ass handed to you by eFootball's hardest difficulty setting.
Have you played eFootball 2022?
YESNO
Naturally, I've found myself spending more time with the online mode as a result. With no way to play against friends currently offered, the only way to matchmake is through the Challenge Event mode – which sounds a lot more exciting than it is. During this 10-day-long celebration of everything mundane, you must win one game out of three to progress to stage two; stage two consists of winning two games out of three in order to win a prize of 10,000 GP. It's currently completely unclear what this in-game currency will actually be used for, though, with no way to spend it as of now.
One major difference between the online and offline modes is that over 200 teams are available to pick from when online, making it even more confusing as to why the selection is so limited in offline friendlies. There's a catch, though: although there's a huge number of options available online you won't have room to experiment with them due to your first team being locked in for the whole 10-day event once you've picked them. It's yet another baffling decision that, no matter how deep my love for the unlicensed 'Tottenham WB' runs, had me yearning for any semblance of variety. Online servers have been an issue as well, with one in-game notification informing me that known issues currently include both matchmaking not being able to find opponents and matches "failing to conclude properly." So even if you could start, you may not bea> able to finish? It sounds a little like a metaphor for eFootball as a whole right now.
Some of this could be forgiven if the on-pitch action was regularly engaging and fundamentally fun to play. It is not. While not feeling a million miles away from the PES of old, it's also nowhere near the peak of its powers. Matches often descend into wars of attrition in which unresponsive players fail to pick the ball up if it's outside their six-inch radius. What should be zippy short passing moves, in reality, become long, drawn-out affairs. It's all just so slow; everything from pacey wingers running like they're wearing ten-tonne boots to attempted whipped crosses floating listlessly in the air towards grateful goalkeepers.
eFootball Screenshots - September 2021
Once in a blue moon, a moment of magic will emerge to remind you of the joys past Konami football games have brought, whether this be a precise through ball around the corner to set an attacker free, or a player satisfyingly letting the ball roll between their legs to not break stride when receiving a pass. These are all too infrequent, though, and feel more like anomalies than intentional greatness.
It's not just the players who fail to distinguish themselves in this regard, but the referees, too. What is and isn't deemed a foul is wildly inconsistent from one tackle to the next. I've committed full-on assault with my elbows to some poor attackers and received zero punishment for it, while being penalised for the equivalent of tapping them on the shoulder to make them look the other way. In one memorable scrap, I counted at least four fouls that the referee should have blown up for as the centre circle turned into a lawless bumper car circuit. It really doesn't make a whole lot of sense and needs to be addressed pretty quickly before it can suck any remaining enjoyment that can be had out of eFootball.
Then there are the things that look like they
"
Then there are the things that look like they should be fouls – mainly because people's arms appear to be popping out of their sockets – but are in fact glitches. It's bafflingly common to see two players running side by side, jostling for possession, only for one of their arms to bend in a way that Houdini would question the viability of. Another particularly amusing example is the face some players pull when performing celebrations, which really does push the limits on how wide the human mouth can believably open. Truthfully, these visual glitches do pop up more than you'd hope they would, but never really affect the gameplay to its detriment, meaning they don't bother me too much. They've made for some hilarious memes already, though.
From the ugly to the beautiful (don't worry, we'll be back to the ugly soon enough), we can give eFootball credit for the stadiums in which the action takes place. These are all beautifully rendered, and never before have the Allianz Arena in Munich, the Allianz Stadium in Turin, or any other non-Allianz-related grounds looked so good.
No amount of architectural beauty will prepare you for the beasts that reside within their stands, however. You've likely already seen the haunting images of eFootball's crowds and it's frankly mind-blowing that this sort of lack of attention to detail exists in games like this in 2021. Glancing to the terraces can look as though 50,000 Edvard Munch sketches have been brought to life and told to jump up and down in unison to the beat of a lonely drum. Push pause, press the instant replay button, and look into their eyes at your peril.
An unflattering depiction of Harry Maguire, who bears more than a striking resemblance to a bulked-up Waluigi.
"
Then there are the player models. To be completely fair, some look quite good – whether it be Leon Goretzka in all his sculpted glory or a fresh-faced Pedri. There are a couple of exceptions though; namely an unflattering depiction of Manchester United captain, Harry Maguire, who bears more than a striking resemblance to a bulked-up Waluigi. It says rather a lot that a supposedly AAA football game can even get some of its most famous players – on fully sponsored teams, no less – all wrong.
eFootball is off to a very slow and unimpressive start, then. Only time will tell how much different it will look in one month – or six months' – time, but the omens are already there when it comes to the microtransactions. Currently available in the store is a pre-order for a Premium Player Pack costing the not-insignificant sum of £32.99/$39.99. This contains premium in-game currency plus six Chance Deals (effectively loot boxes) for the Creative Team mode which... doesn't even yet have a release date. Any hopes that going free-to-play may have been a positive move towards being consumer-friendly may well turn out to be wishful thinking, then. But before we even get around to dissecting all of that, eFootball has a lot of work left to do on the pitch to make people actually want to play it in the first place.