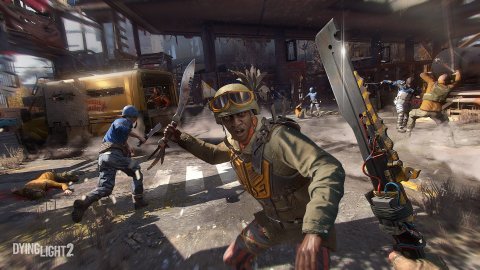 Dying Light 2
Techland lead designer Tymon Smektala in a recent interview with Edge revealed some interesting details about
Dying Light 2
's
state of play
and gameplay dynamics.
The game's release date was recently postponed by about two months, with the launch set in February for PC and consoles, including
Nintendo
Switch. This extra time, explains Smektala, will allow the developers to solve all the edge cases in which the various game elements clash with each other and maybe even to add some welcome easter eggs.
"We are performing a thorough check of all the elements of the game. Dying Light 2 is full of complex systems that are intertwined with each other and created by hundreds of people. At some point in production these start to work well with each other, but there are also some borderline cases where that doesn't happen and you want to fix them. Usually these are simple fixes, but you want to make sure you test them and find out as many as possible. We'll spend those extra two months just like that. And maybe add an easter egg or two ... ", says Smektala .
Dying Light 2, a fight As for the skills that the protagonist Aiden Caldwell will
be able to
use, Smektala explains that each of them will be "game-changer", that is, it will have an impact prof in the game dynamics. The team's goal is that players as soon as they get a new skill will be able to use it immediately to significantly change their approach to the game.
"It's really hard to make a sequel to a similar game. You've already spent 50, 100 or 200 hours upgrading the Dying Light character abilities and now you'll have to do it all over again with the sequel. In the original some skills were fillers, they simply increased attribute values. In Dying Light 2, every skill will be game-changer. Most of them will give you a new skill that you can instantly try on enemies. "
Techland will also improve the mechanics already existing in the predecessor. One of these is the grappling hook, which will have much more realistic physics in Dying Light 2 and will be better amalgamated into the game dynamics, primarily those related to parkour.
"From the very beginning of the project we understood that we had to find a formula that would allow us to re-propose it in the sequel, but at the same time also give more support to the gameplay rather than overlap it."
Source Did you notice any errors?
---
Dying Light 2 documentary reveals creative process behind its soundtrack
On October 11, Techland released Sounds of the Dying City, a short documentary about the creation of the Dying Light 2 soundtrack.
The documentary can be viewed above, and it shows the different techniques the team used to ensure that the soundtrack felt organic within the world of Dying Light and true to the game's themes.
The game's soundtrack is meant to respond to player choices and actions, fitting their playstyle as they sneak around rooftops or rush in with brutal melee attacks.
The short documentary also touches upon many production aspects of the soundtrack recording, including a non-standard recording process used in response to the global pandemic. Artists recorded individual sections of the orchestra for the first time remotely. See how the orchestra combined efforts from London, Paris and Los Angeles to create an atmospheric, unforgettable soundtrack for Dying Light 2 Stay Human.
Dying Light 2 is set for release February 4, 2022 and is available for pre-order now via the link here.
Stay tuned to Gaming Trend for more gaming news.