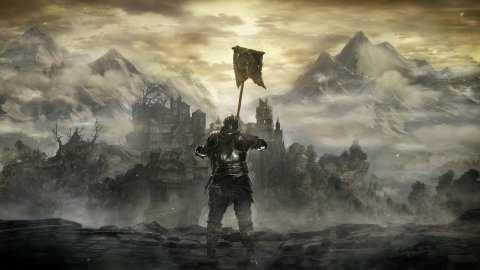 Dark Souls 3 Archthrones is a kind of new Demon's Souls
The Dark Souls saga has come to an end, but only officially. The world of mods is extremely active and there is another big and very interesting project on the horizon: Dark Souls 3 Archthrones, a mod that aims to transform the most recent game of the saga into a kind of new Demon's Souls. The team has also released two videos, which
you can see
above and below.
Dark Souls 3 Archthrones aims to recreate some of the mechanics of Demon's Souls, such as world structure, soul shape, trend of the world and beyond. The name itself is a clear reference to the Archstones, the Archstones that connect the Nexus to the various regions of Demon's Souls. Each Dark Souls 3 map will be recreated to fit the game's new narrative and to create five independent macro areas. Each world will have its own story.
Dark Souls 3 Archthrones will also include many new enemies, new NPC missions and new secrets to unearth. The bossfights will be recreated with new polygonal models and new animations taken from other FromSoftware games. Obviously this is a very large project and we
will have to
see if the modder team will
be able to
create an actually balanced work. This is not a simple proposition.
Currently, Dark Souls 3 Archthrones does not have an estimated release date, so you may have to wait a long time before you can play it. In the meantime, however, we will have room for another huge and highly anticipated mod: Dark Souls Nightfall will be the
best way to
wait for Elden Ring.
Source Did you notice any errors?
---
Dark Souls 3 Archthrones is a kind of new Demon
svg{vertical-align:middle;transition:.4s cubic-bezier(.4,0,.2,1)}.nsn-body{flex:1 1;padding-top:4px;margin-right:-17px;overflow:auto;overflow-x:hidden;-webkit-overflow-scrolling:touch}.nsn-body:hover,.nsn-body.touch{margin-right:0}.nsn-body.touch{-ms-overflow-style:none}.nsn-body.touch::-webkit-scrollbar{width:0 !important}.nsn-category-topitem-wrap{position:relative}.nsn-category-item{display:block;position:relative}.nsn-category-item.selected a.ntext,.nsn-category-subitem.selected>a{color:#00809d;font-weight:bold}.nsn-category-item.selected a.ntext svg use,.nsn-category-item.selected a.ntext svg path{fill:#00809d}.nsn-category-item.rt_Health,.nsn-category-item.rt_TopicBar_Auto,.nsn-category-item.rt_TopicBar_Fashion,.nsn-category-item.rt_Products,.nsn-category-item.rt_TopicBar_Personal{display:none}.news-category-icon-default{white-space:nowrap;display:block;width:100%;height:100%;line-height:16px;text-align:center;background:#767676;color:#fff;border-radius:100%;font-size:.8em;font-weight:bold}.nsn-category-item.selected a .news-category-icon-default{background:#00809d}.nsn-category-item a{white-space:nowrap;overflow:hidden;text-overflow:ellipsis;outline-offset:-1px}.nsn-category-item a.ntext,.nsn-category-subitem>a{position:relative;display:block;padding:0 24px 0 32px;font-size:13px;line-height:56px;color:#444;transition:.25s}.nsn-category-item a.ntext:hover,.nsn-category-subitem>a:hover{background-color:#f3f3f3}.nsn-category-item.selected a.ntext,.nsn-category-subitem.selected>a{color:#00809d;font-weight:bold}.nsn-category-item.selected a.ntext:hover{color:#005f7d}.nsn-category-item.selected a.ntext:hover svg use,.nsn-category-item.selected a.ntext:hover svg path{fill:#005f7d}.nsn-category-subitem.selected>a:hover{color:#005f7d}.nsn-category-item a.highlight.ntext{animation:itemHighLight 2s}@keyframes itemHighLight{50%{background:#eee}}.nsn-category-item.expanded .nsn-category-expand-btn:before{transform:rotateX(-180deg) translate(-50%,25%) rotate(45deg)}.nsn-category-item:not(.expanded) .nsn-category-subitems{height:0 !important;opacity:0;transform:translateY(-12px);visibility:hidden}.nsn-category-icon{display:inline-block;width:16px;height:16px;margin-right:16px;vertical-align:sub}.nsn-category-icon.followed{float:left;margin:16px 12px 0 -4px;height:24px;width:24px;border-radius:100%;color:#fff;background:#00809d;font-size:14px;line-height:24px;text-align:center;text-transform:uppercase}.nsn-category-subitems{overflow:hidden;transition:.4s cubic-bezier(.4,0,.2,1)}.nsn-category-subitem a{display:block;padding-left:64px;padding-right:24px;line-height:48px;color:#666}.nsn-category-expand-btn{display:block;position:absolute;left:180px;top:50%;padding:0;background:none;width:32px;height:32px;transform:translateY(-50%);border:none;border-radius:100%;transition:.25s;cursor:pointer}.nsn-category-expand-btn:hover{background:#eee}.nsn-category-expand-btn:before{content:'';position:absolute;box-sizing:border-box;display:inline-block;width:8px;height:8px;border:1px solid #767676;border-top:none;border-left:none;left:50%;top:50%;transform:translate(-50%,-75%) rotate(45deg);transition:.4s cubic-bezier(.4,0,.2,1)}.nsn-interests-title{box-sizing:border-box;position:relative;height:64px;margin:24px 32px 0;padding:24px 0;border-top:1px solid #ececec;color:#767676;font-size:13px;text-transform:uppercase;white-space:nowrap;transition:.4s}.nsn-interests-edit{position:absolute;left:156px;top:50%;height:12px;width:12px;margin-top:-6px;background-size:contain}.news-side-nav.shrank{width:64px}.news-side-nav.shrank~.newscontainer{margin-left:64px}.news-side-nav.shrank .nsn-expand-btn{padding-left:23px}.news-side-nav.shrank .nsn-expand-btn>svg{transform:rotateY(180deg)}.news-side-nav.shrank .nsn-category-item a{max-width:64px;padding-left:24px;color:transparent;box-sizing:border-box}.news-side-nav.shrank .nsn-interests-title{margin-top:0;padding:0;height:0;color:transparent;visibility:hidden}.nsn-interests-edit{background-image:url(data:image/svg+xml;base64,PD94bWwgdmVyc2lvbj0iMS4wIiBlbmNvZGluZz0iVVRGLTgiPz4NCjxzdmcgd2lkdGg9IjEycHgiIGhlaWdodD0iMTJweCIgdmlld0JveD0iMCAwIDEyIDEyIiB2ZXJzaW9uPSIxLjEiIHhtbG5zPSJodHRwOi8vd3d3LnczLm9yZy8yMDAwL3N2ZyIgeG1sbnM6eGxpbms9Imh0dHA6Ly93d3cudzMub3JnLzE5OTkveGxpbmsiPg0KICAgIDwhLS0gR2VuZXJhdG9yOiBTa2V0Y2ggNTIuNSAoNjc0NjkpIC0gaHR0cDovL3d3dy5ib2hlbWlhbmNvZGluZy5jb20vc2tldGNoIC0tPg0KDQogICAgPGcgc3Ryb2tlPSJub25lIiBzdHJva2Utd2lkdGg9IjEiIGZpbGw9Im5vbmUiIGZpbGwtcnVsZT0iZXZlbm9kZCI+DQogICAgICAgIDxnIGZpbGw9IiM3Njc2NzYiPg0KICAgICAgICAgICAgPHBhdGggZD0iTTEyLDIuNCBDMTIsMi42NCAxMS45MiwyLjggMTEuNzYsMi45NiBMMTAuNzIsNCBMOCwxLjI4IEw5LjA0LDAuMjQgQzkuMiwwLjA4IDkuMzYsMCA5LjYsMCBDOS44NCwwIDEwLDAuMDggMTAuMTYsMC4yNCBMMTEuNzYsMS44NCBDMTEuOTIsMiAxMiwyLjE2IDEyLDIuNCBaIj48L3BhdGg+DQogICAgICAgICAgICA8cGF0aCBkPSJNNy4zODQ2MTUzOCwyIEwxMCw0LjYxNTM4NDYyIEwyLjg0NjE1Mzg1LDExLjc2OTIzMDggQzIuNjkyMzA3NjksMTEuOTIzMDc2OSAyLjUzODQ2MTU0LDEyIDIuMzA3NjkyMzEsMTIgTDAuNzY5MjMwNzY5LDEyIEMwLjMwNzY5MjMwOCwxMiAwLDExLjY5MjMwNzcgMCwxMS4yMzA3NjkyIEwwLDkuNjkyMzA3NjkgQzAsOS40NjE1Mzg0NiAwLjA3NjkyMzA3NjksOS4zMDc2OTIzMSAwLjIzMDc2OTIzMSw5LjE1Mzg0NjE1IEw3LjM4NDYxNTM4LDIgWiI+PC9wYXRoPg0KICAgICAgICA8L2c+DQogICAgPC9nPg0KPC9zdmc+)}.ns-bts-card{box-sizing:border-box;position:fixed;width:346px;right:16px;z-index:9;bottom:72px;padding:24px;overflow:hidden;border:1px solid #ececec;border-radius:6px;background:#fff;box-shadow:0 2px 10px rgba(0,0,0,.2);transition:.25s;animation:blur-in .5s}.ns-bts-card.ns-bts-hide{opacity:0;transform:translateY(-25%);visibility:hidden}@supports (backdrop-filter:blur(10px)){.ns-bts-card{backdrop-filter:blur(10px);background:rgba(255,255,255,.9);}.ns-bts-card:hover{background:rgba(255,255,255,.95);}}@keyframes blur-in{from{transform:translateY(-25%);opacity:0}}.ns-bts-card-btn{display:inline-block;padding:8px 16px;margin-right:8px;border-radius:24px;background:#f5f5f5;cursor:pointer;transition:.25s}.ns-bts-card-btn.primary{font-weight:bold;color:#fff;background:#00809d}.ns-bts-card-btn:hover{transition:.1s;opacity:.9}.ns-bts-card-title{margin-bottom:12px;font-size:20px;font-weight:bold;line-height:28px;color:#111}.ns-bts-card-body{line-height:16px;margin-bottom:20px}.ns-bts-card-body strong{color:#111}.ns-bts-close{position:absolute;top:4px;right:4px;height:32px;width:32px;text-align:center;font-weight:bold;cursor:pointer;transition:.25s}.ns-bts-close::before,.ns-bts-close::after{content:' ';position:absolute;width:100%;height:2px;width:14px;top:15px;left:9px;background:#111}.ns-bts-close::before{transform:rotate(45deg)}.ns-bts-close::after{transform:rotate(-45deg)}.ns-bts-close:hover{transition:.1s;transform:scale(1.1)}.ns-bts-banner{box-sizing:border-box;position:relative;display:block;padding:8px 16px;margin-bottom:24px;overflow:hidden;border:1px solid #ececec;border-radius:20px;line-height:20px;transition:.25s cubic-bezier(0,.4,.3,1)}@media screen and (min-width:1900px){.ns-bts-banner{width:1296px}}.ns-bts-banner.ns-bts-hide{visibility:hidden;height:0;opacity:0;border:none;margin-bottom:0;padding:0;pointer-events:none}.ns-bts-banner .ns-bts-title{display:block;overflow:hidden}.ns-bts-banner .ns-bts-title strong{color:inherit;font-weight:bold;margin-left:.5em}.ns-bts-banner-text{float:left}.ns-bts-banner-text .ns-bts-banner-title{margin-right:8px;font-weight:bold}.ns-bts-banner-text strong{font-weight:normal}.ns-bts-banner-btns{float:right}.ns-bts-banner-btn{display:inline-block;margin-left:16px;cursor:pointer}.ns-bts-banner-btn:hover{text-decoration:underline}.ns-bts-banner-btn.primary{color:#00809d;font-weight:bold}/*]]]]>*/]]>