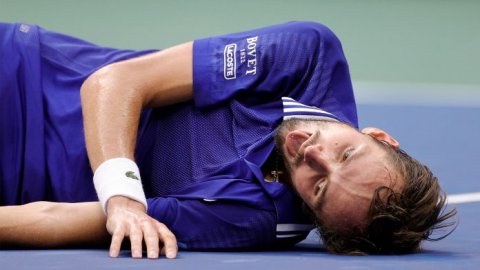 US Open Tennis
Daniil Medvedev won the USA Open
tennis
tournament. After the last shot, the player dropped to the ground, performing what is known in FIFA as the "Dead fish" emote. The champion, who scored a 6-4 6-4 6-4 win over Novak Djokovic, then commented on the choice.
Below
you can see
Medvedev running the FIFA Dead Weight emote.
Subsequently, Medvedev said: "Only the legends will understand that what I did after the match is L2 + left. Thanks guys." The tennis player then claims to be a
PlayStation
player, indicating L2 as a command instead of LT.
If you want to see what the "Dead Weight" emote looks like in FIFA, you can watch the video below.
Medvedev's is certainly a bizarre choice, especially for a world like that of tennis, but nowadays video games are a fundamental part of the daily culture of all people, whether they are tennis champions or not. Tell us, what do you think?
Finally, here are the new
FIFA 22 FUT
Icons unveiled with a trailer.
Source Did you notice any errors?