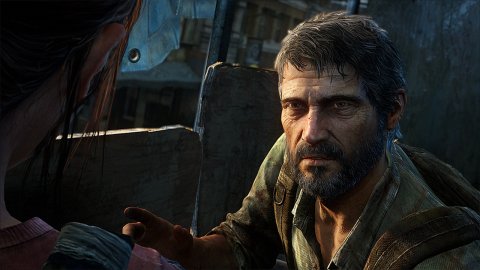 The Last of Us
Rahul Kohli has revealed that his character in the Netflix TV series Midnight Mass is a tribute to Joel Miller from
The Last of Us
,
Naughty Dog
's acclaimed action game. The British actor shared his message on Twitter.
"That's right. In designing the look of Sheriff Hassan, Mike Flanagan and I were so impressed with Joel from The Last of Us and the incredible performance by Troy Baker, to be decided in agreement to pay homage to him by creating a look inspired by him. "
You can see
below an image showing Joel and Rahul Kohli's character in Midnight Mass.
Midnight Mass is a new horror series coming to Netflix on September 24th. It tells the story of an isolated American rural community. The new series marks Kohli's second collaboration with director Mike Flanagan. The two previously worked together on The Haunting of Bly Manor, where Kohli played beloved cook and handyman Owen. Midnight Mass marks Flanagan's third horror series to debut on Netflix, following The Haunting of Hill House launched in 2018, and The Haunting of Bly Manor which arrived last year in 2020.
Speaking The
Last of Us 2
: the team says "it's a shame you didn't like it", but Naughty Dog doesn't back down.
Source Did you notice any errors?
---
Neil Druckmann Will Seemingly Direct Episodes of the Last of Us HBO Series
Neil Druckmann, the writer and creative director behind The Last of Us, will seemingly direct at least a portion of the upcoming HBO TV series based on the game.
An updated production list on the Directors Guild of Canada lists Druckmann as one of five directors for the show's first season.
Listed alongside Druckmann as directors for the series are co-writer and showrunner Craig Mazin, as well as Jasmila Zbanic, and Peter Hoar. They are joined by Kantemir Balagov, who recently wrapped up directorial duties on the show's pilot episode.
While it was already known that the Naughty Dog co-president would feature as an executive producer and writer on the show, it is currently unclear whether Druckmann's role as a director will span a single episode or more.
Since its initial announcement last year, HBO's The Last of Us has since confirmed a number of casting choices for the post-apocalyptic series. The Mandalorian and Narcos' Pedro Pascal was previously confirmed to be undertaking the role of series protagonist Joel while Bella Ramsey (of Game of Thrones fame) is set to play Ellie.
Since then, the show's most recent addition to its cast comes in the form of Fringe's Anna Torv, who will take on the recurring role as Joel's smuggling companion, Tess.
While many of the details surrounding the show have been kept closely under wraps, back in July it was said that the TV adaptation of The Last of Us would have a budget that 'exceeded the eight-figure per episode mark' likely making it 'the largest project shooting in Canada'.
HBO Max Spotlight: September 2021
Jared Moore is a freelance writer for IGN. You can follow him on Twitter.