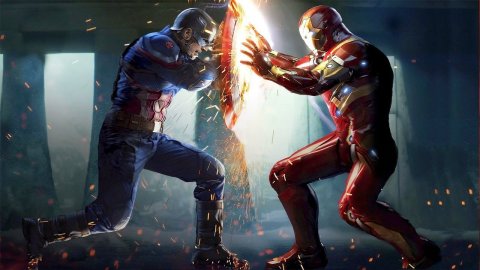 Marvel
Disney has released a new updated calendar for upcoming
Marvel
Cinematic Universe movies. The company has confirmed that 4 films
will be released
in 2024. Which ones are they? We do not know.
Disney, in its report, has in fact added 4 "untitled Marvel films" for 2024. Specifically, the reference dates chosen are February 16, May 3, July 26 and on November 8 of that year. This is one more film than the 3 that will be released in 2023. Currently, the only one whose date is known is Guardians of the Galaxy 3: May 5, 2023.
Marvel Cinematic Universe There are multiple films Marvel that have been announced but have yet to receive an official release date. Deadpool 3 is one of them and it is credible that it arrives in 2023, as Ryan Reynold has stated that filming will begin in 2022. We also know that a Fantastic Four movie and a Blade movie are on the way, as well as a Captain America movie. . But there are other free "slots": there could be a movie about the Mutants or a new cross-over movie about the Avengers. For now it is only speculation.
Remember then that the Marvel Cinematic Universe will expand soon with Eternals. Speaking of the latter, Angelina Jolie explains why she joined the Marvel Cinematic Universe. Instead, for Richard Madden, the Marvel movie was "physically fucking exhausting".
Finally, did you know that Eternals and Spider-Man Far From Home happen simultaneously?
Source Did you notice any errors?
---
Hawkeye trailer: Marvel fans 'so hyped' as first footage released of new Disney Plus show
The first trailer for Marvel's forthcoming Disney Plus series Hawkeye has been released.
Starring Jeremy Renner as his MCU character Clint "Hawkeye" Barton, and Hailee Steinfeld as his new protégé, the series is set to arrive on the streaming service this November.
The trailer gave fans their first look at footage from the series, which is set at Christmastime.
We see Clint begin to settle back into family life after the events of Avengers: Endgame, with his wife and children having returned after the blip.
However, it seems that his ruthless vigilantism has come back to haunt him. Also thrown into the mix is Kate Bishop (Steinfeld), who fights crime as another Hawkeye-style archer.
Marvel fans reacted positively to the trailer, sharing their thoughts on social media.
"This trailer is less than 2 minutes and already Hailee Steinfeld is the perfect Kate Bishop, I could cry," wrote one person.
"Sooo excited!!!!" wrote another.
"I AM SO HYPPPPPPPED," remarked someone else, while a fourth person wrote: "Looks pretty damn good to me!"
Hawkeye is the fourth live-action MCU series to make its debut on Disney Plus this year, following on from WandaVision, The Falcon and the Winter Soldier, and Loki.
The first episode will be released on Disney Plus on 24 November.