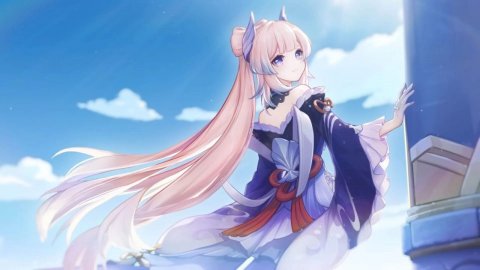 Genshin Impact
miHoYo has released a new "character demo" trailer for Genshin Impact dedicated to Sangonomiya Kokomi, the new playable character that will be available starting tomorrow.
Kokomi is the divine priestess of Watatsumi Island, as well as the leader of the resistance that opposes Raiden Shogun and his Vision Hunt Decree. She will be available on Genshin Impact starting tomorrow, Tuesday 21 September 2021 thanks to the new Drifting Luminescence banner. The other "cover" characters will be Xingqiu, Beidou and Rosaria. The chances of getting one of the aforementioned characters will be higher for all three weeks of the event, which ends on October 12, 2021.
Sangonomiya Kokomi is a five-star rarity character of the Hydro element and fights with weapons of Catalyst class. Her fighting style, as we can also see in the trailer, is based on magical ranged attacks of the water element. According to information shared in the past, Kokomi specializes in healing companions in battle.
In addition to Raiden Shogun and Kokomi, Genshin Impact update 2.1 has introduced a lot of new features, including
Aloy from Horizon Zero
Dawn and Forbidden West, new main story quests, bosses, areas to explore, the fishing system (you can find everything you need to know about them in our guide) and more.
Source Did you notice errors?
---
Genshin Impact's Anniversary Event Rewards Are Underwhelming
Genshin Impact
miHoYo
Everyone has been wondering what Genshin Impact will be doing to celebrate its one year anniversary, and more importantly, what rewards they will be offering players.
While miHoYo has laid out a number of Genshin Impact anniversary events today, so far, they seem to be somewhat underwhelming. Nothing like free heroes or mass quantities of primogems or materials, it seems. Rather, here are the events, when they start, and what they reward.
'An Unforgettable Journey' Web Event – September 28
This will be some sort of recap of your past year in Genshin Impact that you will be rewarded for watching, with addition rewards from trading with friends.
Rewards: Primogems, Mora, Mystic Ore, Hero's Wit (Unknown Quantities)
'A Message in Time' Web Event – September 29
Players will be asked to create their own anniversary cards and then be entered into a raffle system for rewards.
Rewards: 90% of players will get 100,000 Mora, 10% of players will get Blessing of the Welkin Moon, the store item that gives you 90 primogems a day. Again, this is random.
Anniversary Congratulatory Art Repost Prize Giveaway – September 25
Just a social media sharing raffle with IRL prizes:
Rewards: 3x iPhone 13s, cash
Genshin Impact
miHoYo
Genshin Impact Anniversary Event 'Recording Your Anniversary Memories' – September 28
No description given for this.
Rewards: 1,000 winners get 100 primogems.
Genshin Impact Anniversary Event 'Let's Solve Word Puzzles' – October 7
Some sort of word puzzle game.
Rewards: 1,000 winners get 100 primogems.
'The Promise of a Worldly Encounter' Cosplay Submission Contest – September 22
A cosplay contest that will no doubt have steep competition
Rewards: Primogems, Apple AirPods, Razor DeathAdder V2, Fateful Gift Series Merchandise Set (Random Character)
All of these join ongoing Photo, Video and Fan Art submission contests that have already started, and reward similar prizes to the cosplay contest.
As you can see, this is simultaneously a lot (probably too much) but the rewards are lame. The best thing here is the Blessing of the Welkin Moon, and even that is a "gacha" prize where only 10% of players will get that. Everyone else has to settle for mediocre rewards. I really did think miHoYo would gift players an actual hero or something significant, but that does not seem to be the case, and these events look no better than others we've seen in the past, if they're not just outright worse.
We'll see if anything else is added to this list, but most of these kick off in about a week, so we will see if there are any surprises then.
Follow me on Twitter, YouTube, Facebook and Instagram. Subscribe to my free weekly content round-up newsletter, God Rolls.
Pick up my sci-fi novels the Herokiller series, and The Earthborn Trilogy, which is also on audiobook.