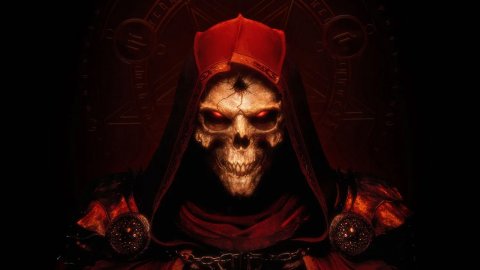 Diablo 2
Diablo 2: Resurrected is now a few weeks away from the launch of Diablo 2: Resurrected on PC and consoles and Blizzard has offered more details on some features, including support for Ultrawide 21: 9 monitors, which will only be partial as it "breaks the game".
The developers have explained that
Diablo 2 Resurrected
will be playable on ultrawide displays, but with the aspect ratio that will not go beyond 19: 9. 21: 9 support was implemented in the alpha, only to be reduced later, as it gave players too great an advantage.
Specifically, playing 21: 9 players could attack enemies from greater distances than the game was designed for. Not only that, the unfortunates hit from so far are unable to identify who attacks them and therefore remain motionless without reacting, allowing players to kill them with great ease, thus breaking the balance of the game.
"To protect the integrity of the experience of all players and promoting an equal playing field for all, those in possession of ultrawide monitors
will be able to
play in 19: 9 (the maximum length of the limitation zones of the game) with cartoons on the sides of the screen "reads a Blizzard post on the official forum. "We understand that gamers have spent a lot of money assembling their 21: 9 hardware configurations and seeing the black bars can be frustrating for their experience. So, we'll continue to watch these discussions and explore possible solutions that don't change the way the that's it "
Diablo 2: Resurrected Blizzard also explained the reasons why they decided to remove TCP / IP support, a feature found in the original Diablo II.
"We are aware that removing this feature adds a major obstacle to the community's talented multiplayer modders. However, our priority is to keep the ecosystem of this game as safe as possible for all players. "
Additional changes will come to console lobbies in the full version of the game, allowing players to group more easily based on different activities. Blizzard says console versions of Diablo II: Resurrected will not include the ability to create custom lobbies, although it will monitor feedback on this topic after launch.
Diablo 2: Resurrected will be available starting September 23 for
PS5
,
PS4
,
Xbox Series X
| S, Xbox One, Nintendo Switch and, of course, PC. Have you seen the trailer dedicated to the Necromancer?
Source Did you notice any errors?
---
Diablo 2: Resurrected Can't Have Ultrawide Screen Support Because It Breaks the Original Game
Activision Blizzard is currently facing serious ongoing allegations of harassment and mistreatment of marginalized workers. To learn more, please visit our timeline as well as our in-depth report on the subject.
Diablo 2: Resurrected won't feature ultrawide monitor support when it launches on September 23 due to the discovery that the wider screens break AI mechanics within the original game.
Following the technical beta for Diablo 2: Resurrected, developer Vicarious Visions and Blizzard Entertainment took to updating fans on a number of in-game features that the team has revisited. As well as briefing players on changes that had been made to console lobbies and offering more insight into the removal of TCP/IP support (which it dropped back in August), Blizzard also updated fans on the subject of ultrawide monitors and why players won't be able to utilize the full width of their 21:9 screens when the game launches.
According to Blizzard, the issue mainly stems from the game's AI not registering players at distances available to those using 21:9 ultrawide screens. The update post expands on issues caused by ultrawide screens in the game:
'Ultrawide monitor support being modified was a subject we saw heavily discussed across our channels following the Beta. In the Technical Alpha, players with Ultrawide hardware saw their full 21:9 screens utilized during that test. However, during that test we identified limitations affecting those players and others. For example, the AI failed to sense the player and trigger attacks. Furthermore, players with 21:9 monitors were able to pull many more monsters into battle at a range limit beyond the original game's intention. In a scenario where players (for example: playing a ranged class) were attacking monsters, players with 21:9 monitors could hit enemies with that extra screen space, but the monsters would not pull or react, but could still be defeated. Ultimately, the AI doesn't register getting hit from that additional distance a 21:9 monitor provides. That's not intended, especially if you're sharing a game with a 16:9 user. To protect the integrity of everyone's experience and promote an equal playing field for all, those with Ultrawide monitors will be able to have their game screen purview extended to 19:9 (the maximum length of the in-game limitation zones) with a vignette on the sides of the game screen.'
Blizzard acknowledged that players are likely to have paid top-dollar for their ultrawide monitors and in doing so may feel irritated by the inclusion of black bars on the screen during their playthrough. In response to this, Blizzard has said that that it will continue to 'explore possible solutions that don't change how the game is played.'
Elsewhere in the post, Blizzard said that two of its core principles for the game are 'protecting the authenticity of the original Diablo II experience and making it more accessible in this modern age.' Whilst finding a way to include ultrawide monitor support would arguably lean into the latter, a future patch to address the issue currently looks far from certain.
To read more about the upcoming remaster for Diablo 2, you can check out this piece that details everything you need to know about the game.
Jared Moore is a freelance writer for IGN. You can follow him on Twitter.