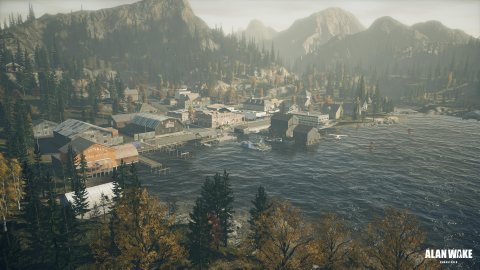 Alan Wake Remastered
New information arrives on
Alan Wake Remastered
through the Twitter account
PlayStation
Game Size, which communicates the expected size for the download of the game on PS5, the
start date of
the pre-load as well as new images that emerged from the official fan kit.
As for the space occupied on PS5, the account specialized in this information reports that it is 27,466 GB (without the patch scheduled for day one), therefore a quantity of data rather in line with the standard, while the pre-load on PlayStation should be available from 3 October 2021.
It is two days before the release date set for Alan Wake Remastered, or October 5, 2021. This is not yet official information, but the source, by actually performing a sort of datamining on the variations of the PlayStation Store database, can be considered reliable.
Recall that Alan Wake Remastered was shown with a
PS4
and PS5 trailer at the PlayStation Showcase, but is also expected to arrive on PC,
Xbox Series X
| S and Xbox One. It recently emerged that it will go to 4K and 60fps on PS5
and Xbox Series X
, with free upgrade between console families.
Some new images of the game in a remastered version have also emerged as well as a promotional poster, which you can see in the gallery above. The game, of course, is a technical reworking of the original released on Xbox 360 and developed by Remedy, which recently showed obvious contact with Control.
Have you noticed any errors?
---
Alan Wake Remastered Release Date, Trailer And Gameplay - What We Know So Far
A few days after Lake's post, 'Alan Wake Remastered' was featured at the PlayStation Showcase, alongside other big reimaginings, like a 'Star Wars: Knights of the Old Republic' remake. During the showcase, a trailer showed off some of the remastered visuals and, most importantly, announced the release date. 'Alan Wake Remastered' releases on October 5 for Xbox One, Xbox Series X|S, PS4, PS5, and PC on the Epic Games Store.
'Alan Wake Remastered' includes the original base game and its two story expansions, 'The Signal' and 'The Writer' for $30 USD. As detailed on the PlayStation Blog, the story begins with Alan Wake regaining consciousness after a car crash. He is in the small forest town of Bright Falls, Washington, he can't remember the last week, and his wife is missing. Wake is an author but has had writer's block for a while. He finds pages of a novel he seems to have written, despite not remembering it. The novel stars him, is a horror story, and is seemingly coming true around Wake.