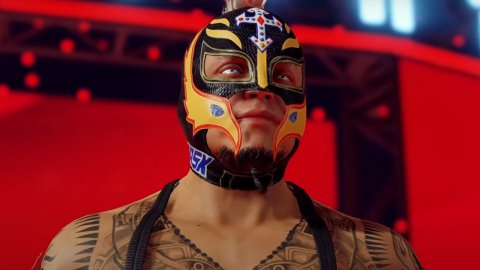 WWE 2K22
2K
Games has released
the first WWE 2K22 in-engine trailer. The video allows us to see the in-game graphics and some very short sequences of the game. We can see various wrestlers and some moves performed in the ring. More important is the fact that this video reveals the month of release: March 2022.
According to 2K Games, WWE 2K22 will include: "New controls, amazing graphics and a recreated graphics engine". The
sports
game, in fact, was created with a new engine and, as far as we can see so far, graphically the game is really excellent.
2K Games has not indicated precisely the reference platforms for WWE 2K22. Considering that 2K is releasing its sports games on both old-gen and next-gen, it's credible that the game will be released on both
PS4
/ Xbox One and
PS5
/
Xbox Series X
| S, but for now we can't get it. confirmation.
There will be
new information on WWE 2K22 in January 2022. So we just have to wait to find out something new about the game.
In addition to what the developers said, a report of Forbes had stated that the gameplay is fantastic, as well as confirming that the game engine had been recreated.
Source Did you notice any errors?
---
WWE 2K22 Trailer, March 2022 Release Announced During SummerSlam 2021
2K Games officially announced that WWE 2K22 will be released in March 2022. 
The announcement and trailer drop came during Saturday's WWE SummerSlam broadcast. 
2K22 will mark the first release in the WWE 2K series since WWE 2K20 was released in October 2019. 
WWE announced in April 2020 that there was not going to be a new game released during the calendar year. WWE 2K20 was met with widespread criticism from fans due to a series of in-game glitches. 
2K Games did provide the WWE Universe with a new game last year to hold them over before a new release in the main series. WWE 2K Battlegrounds, an arcade-style fighting simulation, dropped in September. 
It's unclear at this point if a next-gen version of WWE 2K22 will be available for the PlayStation 5 and Xbox Series X/S systems.