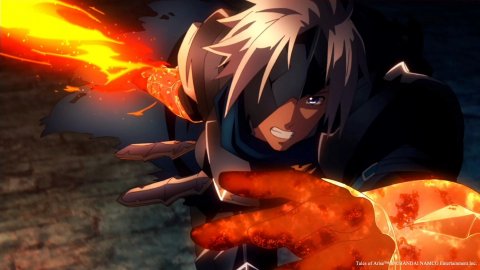 Tales of Arise
During a recent Q&A, producer Yusuke Tomizawa unveiled new details of Tales of Arise, the new Bandai Namco JRPG coming to
PlayStation
5,
Xbox Series X
, Xbox Series S, PC, PlayStation 4 and Xbox One on September 10th. . For the occasion, interesting new information was shared on the longevity of the title, the arrival of any DLC, as well as some previews on the plot.
When asked "how long does Tales of Arise last?", Tomizawa explained that the longevity of the title is comparable to that of Tales of Berseria, but that a lot also depends on the style of play with which you will face the adventure and the number of optional contents in which you will compete. Those who have played the previous titles in the series will know that this means dozens and dozens of hours of play to get to the end credits, with the possibility of reaching, if not exceeding, the triple digit in the counter if you decide to complete everything 100% at maximum difficulty.
Another interesting question posed to Tomizawa concerns the possible realization of DLC, as happened in the past with Tales of Zestira, or of a possible sequel or prequel of Tales of Arise. In this regard, the producer stated that the story of the game is complete in itself and that therefore there are no post-launch paid content or any new chapters. However, there will be crossover collaborations in mobile titles related to the Tales of series, but they will be completely unrelated to the game.
Finally, a user asked if we can expect a happy ending or a negative ending. Before proceeding with Tomizava's answer we advise you not to continue reading if you absolutely do not want any spoilers on the plot of Tales of Arise.
Tales of Arise "I don't want to spoil it, but from the planning stage of Tales of Arise we decided early on that the game would leave a good aftertaste once completed. This is the kind of game it will be. ", this is the response of producer Tomizawa on what we can expect at the end.
In recent days Bandai Namco has released a new trailer of Tales of Arise that presents the champion Kisara and one dedicated to the main game activities.
Source Have you noticed any errors?
---
Tales of Arise Tells a Self-Contained Story, Developer Says
With Tales of Arise edging closer to its September launch, its developers at Bandai Namco have been dropping more details on the action RPG, and the anticipation surrounding its release is certainly continuing to mount. In a recent Q&A (transcribed and translated by DualShockers), the game's developers spoke about a number of other things, while also dropping some new details on the nature of its story.
In response to a question about whether Bandai Namco has plans for any story DLC or direct prequels or sequels to Tales of Arise, series producer Yusuke Tomizawa said that the game tells a self-contained story that will be wrapped up by the time its credits roll, and though Bandai Namco might release some cross-media spinoffs, they don't plan on following up on the story in any major way.
"he story of Tales of Arise resolves itself in the game," Tomizawa said. "We do have DLC content like in the Limited Edition, but all the story is in the base game. I guarantee it. Moreover, Arise is fundamentally a stand-alone game. We don't plan to link it with another game, and it will conclude itself in this one game. There will be Tales of Arise collaboration content in the crossover mobile games, but it'll be completely unrelated to the main game. Even if you don't play the mobile games you'll still be able to enjoy Tales of Arise."
Tales of Arise launches on September 10 for PS5, Xbox Series X/S, PS4, Xbox One, and PC.