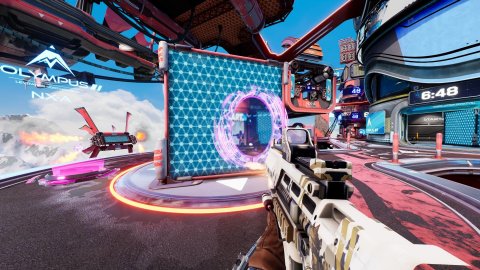 Splitgate, the free-to-play multiplayer shooter that mixes Halo and Portal, could also arrive in the future on
Nintendo
Switch and mobile devices, according to the words of 1047 Games.
As you probably know, the game is having a success remarkable, so much so that it was the most downloaded in the US and Europe on PlayStation Store last month. It is therefore not surprising that the developers are considering the idea of ​​bringing Splitgate to other platforms as well, such as
the Nintendo Switch
, smartphones and tablets.
"We haven't started working on it yet, but ... part of our plans is to make Splitgate available everywhere. We want to bring it to mobile and Switch ", these are the words of CEO Ian Proulx in Q&A with fans that took place on Twitch during the course of the week.
Splitgate However how we know the priority of 1047 Games is to work on the stability of the servers, since the developers did not expect such a large amount of players. A process that inevitably delayed the release of the
PS5
and Xbox Series X
| versions temporarily S. In short, for any Nintendo Switch and mobile versions there will certainly be a wait.
Splitgate is currently available in early access on
PS4
, Xbox One and PC, with the launch of the full version scheduled for August 2021 .
Source Have you noticed any errors?