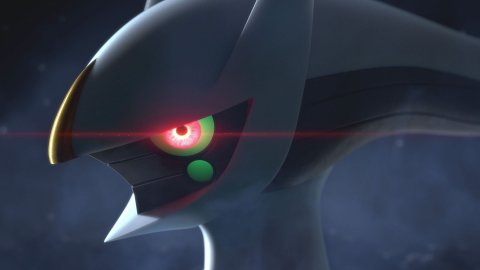 Pokémon Arceus Legends
Yesterday, Pokémon Presents unveiled the latest news on the Game Freak franchise. Among the various games, ample space has been given to Pokémon Arceus Legends, a new open world adventure that will change the classic Pokémon style. Now, moreover, we have the opportunity to discover the dimensions of the D1 of the Switch game: we are talking about 13 GB.
Legends Pokémon Arceus, therefore, will weigh more than Pokémon Shining Diamond and Shining Pearl: both settle in fact on 10 GB . Obviously, the 13 GB of the open world adventure may vary following an update and patch, or following potential additional content (not announced for now, we specify). Of course, Diamond / Pearl will receive a D1 patch.
Pokèmon Legends Arceus will take us to Hisui, in the past of the original saga. As a boy or girl, we
will have to
catch Pokémon to complete the very first Pokédex in the region. The game world will be open and wide and we will have to explore it on foot or with the help of some Pokémon (by land, water and air).
Pokémon Legends Arceus also changes the combat system, which
is no longer
a classic turn-based game. Then there are some more action elements, which blend with the original RPG nature of the saga. For all the details, we recommend our new preview.
Source Did you notice any errors?
---
Why Does 'Pokémon Legends: Arceus' Look This Terrible?
Arceus
Game Freak
Yesterday, there was a new Pokémon Direct that showed off a new trailer and features from Pokémon Legends: Arceus.
At its core, this looks like the kind of Pokémon game I've been hoping to eventually see since I was a little kid, true open world exploration, catching and battling Pokémon in a more traditional RPG setting. A "console" Pokémon game that wasn't a spin-off, as opposed to a "handheld" one.
Of course, the Nintendo Switch is one and the same. And while traditional Pokémon games continue to exist, Nintendo is showing they're branching out at last, and Arceus looks to be a hit.
It also looks…just horrible.
Again, not talking about the concept. The concept and features are great. I'm talking about its visuals, which are some of the most dated I have ever seen in a major Switch game, so much so this almost feels like some sort of fan production rather than an official title.
The main culprit here is the environments, which are full of muddy, blurry textures.
Arceus
Game Freak
They are barren, with only wisps of grass on flat ground in between a sparse amount of trees.
Arceus
Game Freak
Snow environments are like they haven't fully rendered yet. And something as basic as footsteps in the snow? Forget about it.
Arceus
Game Freak
The actual human and Pokémon models may look a touch better than the environments, but I certainly don't think you could classify them as "good"
Arceus
Game Freak
There are two things going on here.
The first is the power of the Switch, which is so far behind what we've come to expect from modern day consoles or PC titles or hell, even mobile games in some instances, that it's no wonder everyone is baffled Nintendo isn't coming out with an upgrade for the four year old unit, which already launched about a generation behind its competition in terms of power. Now it's closer to two generations behind.
But that's probably not even the main factor here. The other aspect here is art design. For a while now, Nintendo has been able to compensate for its lower power by stylizing its games to look bright and colorful and rich without needing some huge power edge. Yes, that can be games like Mario Odyssey or Splatoon, but obviously the one open world game everyone will bring up is Breath of the Wild, a vast map that sure, is a bit barren compared to others in the genre, and yet the art direction is so good here, it was one of the most gorgeous-looking games of the past generation all the same. Whatever magic was infused into Zelda is wholly absent from Arceus here.
Arceus
Game Freak
Will this affect the end result of Arceus? Almost certainly not. I mean, players are used to the handheld versions of the mainline games which don't rely on graphics at all (though most are better stylized than what we're seeing here) and Arceus offers enough new for Pokémon and realizes many long-term dreams for the series where most players will be able to look past its visual shortcomings.
But…imagine if we didn't have to? Imagine if we got an exploration-based game like Arceus that also was beautiful? I wish Nintendo didn't need to have these tradeoffs. Most of the time, they can bridge the gap with art design, but here? Game Freak has fallen well, well short here, partially based on their own design choices, partially based on the hard limits of the Switch.
Follow me on Twitter, YouTube, Facebook and Instagram. Subscribe to my free weekly content round-up newsletter, God Rolls.
Pick up my sci-fi novels the Herokiller series, and The Earthborn Trilogy, which is also on audiobook.