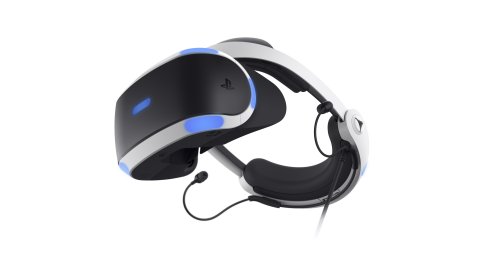 PlayStation VR 2 on PS5
PlayStation
VR 2, the new viewer for virtual reality on
PS5
, would have been the protagonist of a presentation behind closed doors from which new technical specifications and the news of a reveal of the device have appeared at the beginning of 2022.
Yes, we are talking about the PSVR2 technical specifications considered impressive by Digital Foundry, mostly already reported in May but with
some new details
, in particular the OLED Fresnel lenses and capacitive touch sensors on the controllers.
At present , the hypothetical data sheet of PlayStation VR 2 would therefore be this:
Display: Fresnel with OLED technology Resolution: 2000 x 2040 pixels per eye Output: 4K HDR FOV: 110 Eyetracking: yes Haptic feedback: yes, on viewer and controller
Beyond the aspects related to the components, it seems that the presentation also came out with details related in general to the philosophy that will characterize the new VR viewer, starting with The fact that
it will be
sold with bundled controllers and not to be purchased separately.
It seems that this time
Sony wants to
focus on the production of triple A games for PlayStation VR 2 aiming at an ambivalence of experiences, which can be enjoyed in a normal way on PS5 or in virtual reality, downloading only the necessary data.
During the presentation there would have been no talk of backwards compatibility, but the company intends to push significantly on the remasters of the most valid released on PlayStation VR. Finally, the reveal of PSVR 2 should take place in early 2022.
Source Have you noticed any errors?
---
Digital Foundry Has Apparently Seen Undisclosed PS VR 2 Specs and Claim They Look Good
Folks over at Digital Foundry claim to have seen undisclosed next-gen PlayStation VR (PS5 VR or PS VR 2 – whichever you prefer) tech specs, and the outlet claims that things are looking good.
As spotted by Video Games Chronicle, Digital Foundry made its comments in a DF Direct Weekly video.
"One thing I think that is kind of heartening is that Sony is doing PS VR 2 for the PlayStation 5," said technology editor Richard Leadbetter. "We've seen some leaked specs and it looks good. We've seen some other specs which haven't been leaked which make it look even better. So, hopefully VR will be able to expand, there will be more choice in the headset arena, and also I'm quite looking forward to seeing what this new Sony controller is about."
The leaked specs that Leadbetter is referring to first surfaced online in May in a report published by UploadVR. The website claimed that it heard from "reliable sources" claim to have heard from "reliable sources" that PS VR 2 will feature 4K along with a vibration motor and foveated rendering.
"We don't yet know the product's name, but multiple sources tell us Sony shared details with partners," wrote UploadVR. "Those details include a resolution of 4000×2040 pixels (2000×2040 per eye), a lens separation adjustment dial, and gaze tracking capable of foveated rendering. A motor in the headset can be used by developers to give direct haptic feedback."
As usual, take everything with a grain of salt. Like everyone else, we're eagerly awaiting details about the next-gen VR system from Sony.