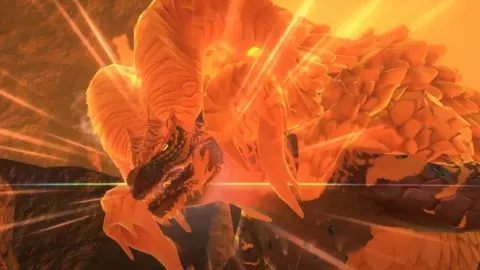 Monster Hunter Stories 2
With a trailer, Capcom presented the news coming with the Update 2 of
Monster Hunter Stories 2
: Wings of Ruin, available for free from tomorrow, Thursday 5 August, for all owners of the game. Among the novelties we find the new co-op mission in which to face the Kulve Taroth, the addition of the Ignis Glavenus and the Fulmen Astalos and more.
As already announced in the official roadmap, Monster Hunter Stories 2 will receive in the coming months a steady influx of new content in the form of "Free Title Update". The one arriving tomorrow will introduce a new co-op mission in which to face the fearsome Kulve Taroth. The elder dragon first appeared in Monster Hunter World as a Siege mission, giving millions of players a hard time. In short, prepare your best Monstie,
it will be
a great challenge.
But the news does not end there, as the Ignis Glavenus and the Fulmen Astalos will be added to the already vast monster rooster of Stories 2. Both are variants extremely dangerous of Glavenus and Astalos, so you probably should only face them at an advanced stage of the adventure. Finally, the update adds numerous event missions, both for the singleplayer and for the co-op.
If you are in the early stages of the adventure and you need a hand, we recommend that you read our guide to the Ritual Monster Hunter Stories 2 Shamanic.
Source Did you notice any errors?
---
Monster Hunter Stories 2 Update 2 is about to launch tomorrow, and in it players will be able to face a co-op quest exclusive monster, along with two new monsties. It's all part of a fairly comprehensive post-launch update roadmap, where players can currently expect five free title updates going through October 2021.
There are also a few bug fixes includes in the patch, where a Monstie out in the field that have been given gene that boosts attack power of one of the elements would change color depending on the Monstie's elemental values. While pretty funky, this has been fixed up.
Players will be able to face off against the gilded Elder Dragon Kulve Taroth as a new co-op quest that players can tackle together. While the Kulve Taroth won't be a ridable Monstie, the materials earned from the quest will help players craft new equipment. The two new monsties that players can get are the Hellbade Glavenus and the Boltreaver Astalos. Apparently the Hellblade Glavenus can melt solid rock and their tailblades can cut through mountains with hot knives, so players will have to be careful. The Boltreaver Astalos can unleash electric bolts 'as blue as the sky', which I'm sure players will find very shocking as well.
There's also a few more co-op quests coming out during the month. We just have the names of them so far so here they are rapid-fire:
Additional Co-Op Quests
[August 5]
★8 (Time) The Goddess of Gold
★8 (Explore) Fire Eggs
★8 (Explore) Thunder Eggs
[August 19]
★9 (Slay) Hellblade Glavenus
★9 (Slay) Boltreaver Astalos
★8 (Turn) Glavenus
★8 (Turn) Astalos
Additional Subquests
[August 5]
★4 (Special) Dealin' for Dunkers
[August 19]
★8 Psychoblaze Black Knight
★8 Lightning Revolt
★8 (Special) Tantalizing Toe Beans
 For more information on Monster Hunter Stories 2, stay tuned to TechRaptor for more details.