Intel Core i9-12900K vs AMD Ryzen 9 5950X
As Intel is preparing to begin sales of its 12th Generation Core "Alder Lake" processors in October (
at least according
to Noctua), the company has already sent several samples of these CPUs to various of its OEM customers, which is why it is inevitable. some benchmark results leaked online. We've already seen the Core i7-12700 in action this week and now it's time for the flagship model of the new line-up, the Core i9-12900K, to show its potential in Geekbench 5 as well. Surprisingly, it was also able to outperform AMD's Ryzen 9 5950X in multi-threaded workloads.
Credit: Intel The Intel Core i9-12900K processor is designed to take advantage of the full benefits of the Alder architecture Lake, features eight high-performance Golden Cove (P-core) cores with Hyper-Threading and eight energy-efficient Goldmont (E-cores), is equipped with a 30MB L3 cache, and runs at high clock speeds. The final frequencies of the Core i9-12900K chip are currently unknown, but, at least according to the version tested on Geekbench 5, it appears that it will have a base frequency of 3.20GHz. For some reason, the program was unable to determine the chip's maximum Turbo frequency, but we believe
it will be
5.0 GHz or higher. Just like with the Core i7-12700, it would be quite unfair to compare single overall scores. -thread and multi-threaded by Alder Lake in Geekbench 5 (due to the unfairly oversized impact of cryptographic performance in the benchmark and lack of AVX-512 support in Alder Lake), but we will focus on integer and float performance.
Core i9-12900K Core i9-11900K Ryzen 9 5950X
Apple
M1 General specifications 8P, 8E, 3.20 ~? GHz, 30MB 8P, 3.50 ~ 5.10 GHz, 16MB 16, 3.40 ~ 5.0 GHz, 64MB 4P, 4E, up to 3.20 GHz Single-Core | Integer 1614 1607 1435 1597 Single-Core | Float 1980 1872 1881 1896 Single-Core | Crypto 4990 6008 4089 2783 Single-Core | Score 1893 1907 1702 1746 Multi-Core | Integer 17133 12051 16695 7013 Multi-Core | Float 18588 13064 18695 8624 Multi-Core | Crypto 11717 10090 8145 10137 Multi-Core | Score 17299 12257 16868 7653 Apparently, the Core i9-12900K is very powerful. Outperforms all modern top-of-the-line CPUs from Intel, AMD and Apple in single-threaded integer and float workloads. However, the chip really shines in multi-threaded tasks, as the CPU packs
16 cores in
total and can process up to 24 threads simultaneously. Therefore, it's notable that it can beat AMD's 16-core Ryzen 9 5950X (which can run 32 threads) in entire multi-threaded workloads, but loses 107 points in floating-point multi-threaded tasks.
While the performance of the Core i9-12900K in Geekbench 5 seems quite impressive, it should be borne in mind that it is dealing with pre-production hardware and some things may change in its final incarnation.
---
Intel i9-12900K Benchmarks Shows it 12% Faster than Ryzen 9 5950X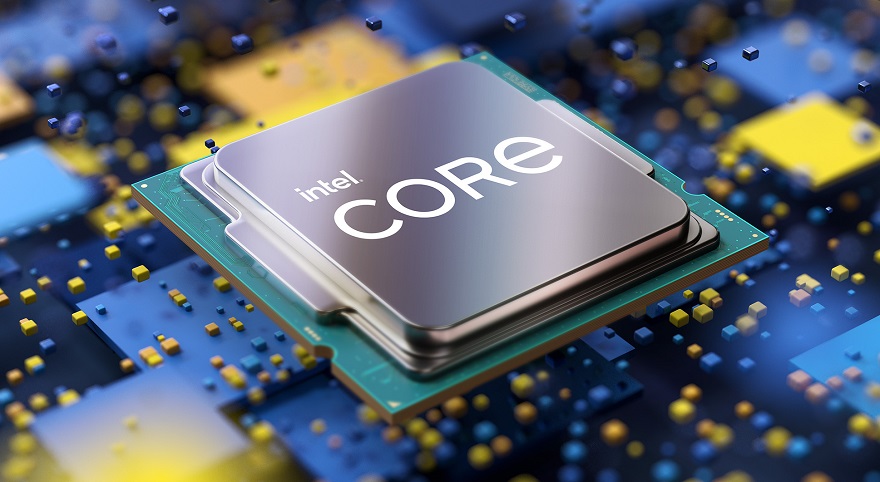 With Intel's new Alder Lake-S processor platform likely set to arrive this October, one of the biggest questions that is going to be asked by the community is how this new series will stack up and compare against AMD's 4th-generation Ryzen 5000 platform. – Well, following a report via Videocardz, Geekbench 5 results have appeared online, and it would appear that the Intel Core i9-12900K is going to perform better than the current AMD flagship Ryzen 9 5950X. With, it should be a noted, a few caveats/points of interest.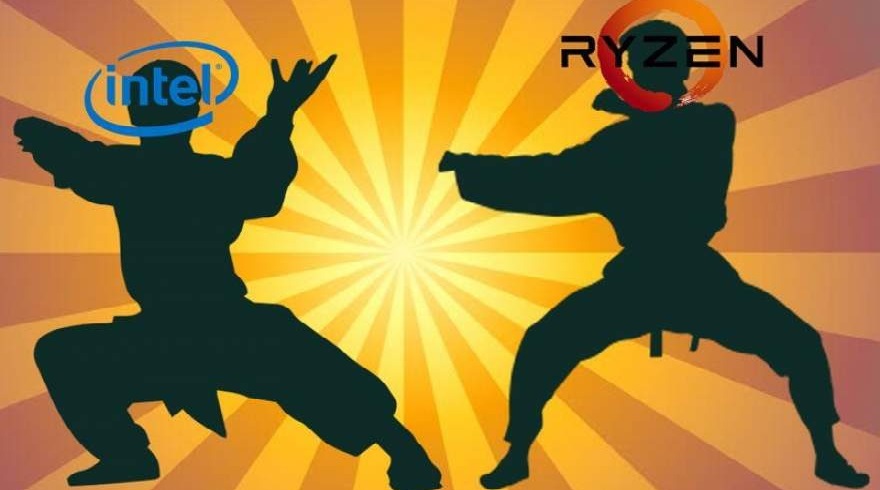 Intel i9-12900K VS
AMD Ryzen 9
5950X
Taking existing known results from AMD Ryzen 9 5950X samples, the Intel i9-12900K has appeared on the Geekbench 5 result board, and it would appear that in both single and multi-core performance, Team Blue is going to have the advantage here. This is, however, a standpoint that does require some explanation.
Firstly, the Intel i9-12900K was tested on the Windows 11 Pro operating system, which is understood to be optimised towards the 'big.LITTLE' core architecture expected in the Alder Lake-S platform. Additionally, it would appear that this particular result utilised DDR5 memory. Albeit, exactly how much of an impact that would have on the final result is clearly a matter of contention.
The bottom line, however, is that in comparison against the Ryzen 9 5950X, the Intel i9-12900K provided the following scores:
Single-Core – 12% faster than AMD
Multi-Core – 3% faster than AMD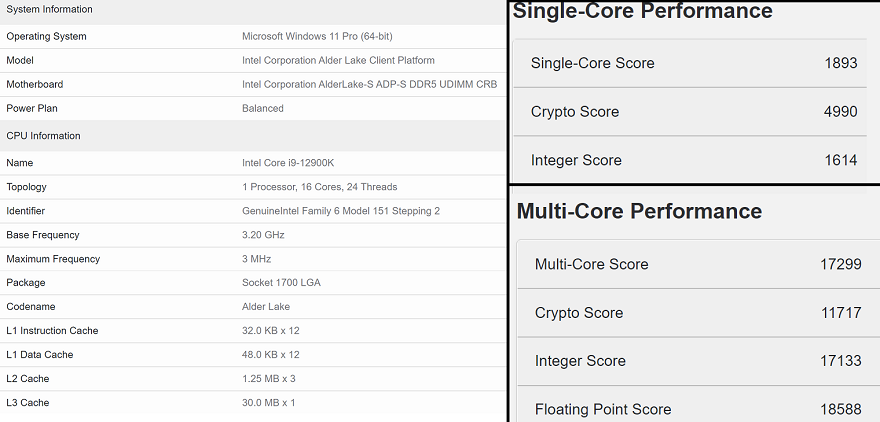 What Do We Think?
Based on all leaks seen to date, it does seem pretty clear that in comparative performance terms, Intel's Alder Lake-S is going to be going very much toe to toe with Ryzen 5000. And, overall, the gap between the platforms is going to be close, but Intel is very likely, as per these results, going to edge out most of the battles by a notable, but not exactly huge, margin.
This does, however, raise the question as to how much better Alder Lake-S is going to be. While these results show the Intel i9-12900K as the clear winner, it does have many factors in its favour. By and large, it's better than the AMD Ryzen 5950X, but it doesn't seem to have a huge margin of performance over it. Well, not as big as some might have anticipated (or hoped) at least. And, let's be honest, given that Alder Lake-S is Intel's first true response to Ryzen, we were all expecting better than this!
With Alder Lake-S set to release in a couple of months time, we will, of course, be testing this ourselves to see the comparative performance on offer. Based on the growing number of performance leaks, however, I'm starting to wonder if all my optimism for the new Intel platform isn't going to be damped somewhat by the end result being that while it will end up being notably better than Ryzen 5000 (as we all expected), it won't be as significantly so as we once believed.
What do you think? – Let us know in the comments!