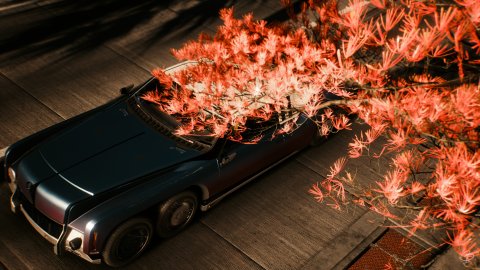 Cyberpunk 2077
The modder Scissors123454321, has published a big mod for Cyberpunk 2077 which has the ambitious goal of fixing some aspects of the game, in particular relating to the gameplay, but also to eliminate some bugs. The mod has the ambitious title of Full Gameplay Rebalance and goes to retouch the following aspects of the
CD Projekt Red
title:
Artificial intelligence and rebalance the enemies Armor and modifications to armor Cyberware Explosives Food, drink and alcohol Some gameplay mechanics Cures and medicines Hand-to-hand combat I perks Character characteristics Ranged weapons Quick hacks Traders and their prices Weapon modifications Experience points
Despite the many tweaks, Scissors123454321 thought the mod to not take the game too far from the original experience. In short, he conceived it as if it were a patch to fix some things, without however distorting Cyberpunk 2077.
The Full Gameplay Rebalance mod can be downloaded from the usual Nexus Mods. To install, follow the instructions written by the modder himself. A few days ago CD Projekt Red released Cyberpunk 2077 patch 1.3, revisiting many aspects of the game.
Source Did you notice any errors?
---
What Do 'Cyberpunk 2077' Players Actually Want At This Point?
Cyberpunk 2077
CDPR
Yesterday, CDPR released patch 1.3 for Cyberpunk 2077, which arrived alongside some minor free DLC. Fans are…less than amused. Though the patch notes are the longest we've ever seen and the patch is the largest, size-wise, there's almost nothing for players to go back and really do, other than pick up a pair of jackets from their stash, get a new car, and make fun of Johnny's new outfit.
This leads to a question, what do Cyberpunk 2077 players who have been waiting around all this time actually want? I really don't think this is an impossible issue to parse and this is just some hostile playerbase that will never like anything.
Rather, I think this is a question of priorities for CDPR, which has spent eight months now where 98% of every patch is fixing hyper specific bugs in the game.
Look, I get that bugs are bad. And yet I have played through the game two and a half times now on two platforms, both near launch before most of these patches or hotfixes, and I encountered ones that were truly game or mission-breaking maybe once, twice? Ones that couldn't be fixed with a simple reload. Simply put, I'm not sure it's worth it at this point, this late in the game, hunting down every single bug that has ever existed in the game, and it never ending because there will always be more. CDPR seems obsessed with either patching bugs or adding quality of life features that would have been nice to have when the game launched, but now? When players are looking for a reason to go back? Bug fixes don't do that.
So, let's recap. Here are things that players want that would actually get them playing:
Cyberpunk 2077
CDPR
Character Re-Customization – Players have not even had the ability to get so much as a haircut since the game launched. A Cyberpunk game! Come on. This should be a free quality of life update, some sort of ability at the Ripperdocs or a new plastic surgeon vendor. And while they're add it, a good example of cosmetic free DLC would be things like new hairstyles or tattoos or cosmetic cyberware.
Crime Reset/New Game Plus – These are in a similar category, but it would give players actual content to pursue again. New Game Plus is self-explanatory and has to be coming. Crime Reset would allow you to reset all the street crimes in your current game, if you didn't want to play the whole story over, but still wanted more clusters of enemies to kill and cash and items to farm.
In-Depth AI Improvements/Harder Difficulty – There were a few small improvements this last patch, but what players really want to see is smarter AI in terms of everything from enemies to pedestrians to traffic. And what the game really needs is a difficulty setting above Very Hard right now, as with any reasonably focused build, the game is simply too easy.
New Missions/Gigs – For this, I'm talking about free DLC minor missions and gigs, as it would be…actual content to play we haven't seen before. The Witcher 3 got small missions like this, I expect some Cyberpunk free DLC will be like this as well. Even if it's just a handful.
Cyberpunk 2077
CDPR
Next Gen Launch Info – They said it was happening this year, and here, in their late August livestream, didn't even mention it. I know a ton of people who are waiting to dive into the game in earnest because these next-gen versions aren't out, and no, the current upconverted versions on next-gen consoles are not great, so it's probably worth waiting. No idea why CDPR isn't talking about a release window for these yet.
Any Expansion DLC Info – I understand that CDPR does not want to make big promises anymore, but that shouldn't be replaced by silence. While we don't need to know tons of details and features yet, even the name of future expansions, or a brief description of what they will be about (Rogue AIs? Morgan Blackhand?) would be hope-generating for the community.
Sure, there's more. I'd love a bunch more outfits, guns, cars, cyberware, etc. But those are the basics. And after eight months, CDPR simply cannot or will not provide them. Maybe soon, as I have to believe at least a few of these are coming, but until then, it's no surprise patches like 1.3 and its jackets are not being well-received.
Follow me on Twitter, YouTube, Facebook and Instagram. Subscribe to my free weekly content round-up newsletter, God Rolls.
Pick up my sci-fi novels the Herokiller series, and The Earthborn Trilogy, which is also on audiobook.