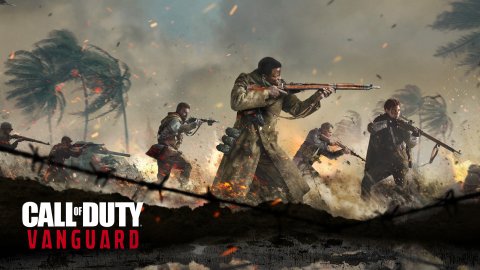 Call of Duty
Activision will finally reveal
Call of Duty
: Vanguard to the world tomorrow. As you probably know, the reveal will take place via a special Warzone event. And apparently those who actively participate will be able to get their hands on some exclusive rewards.
As announced by the official Twitter profile of the series, players who log in during the event will receive a kind of gift package, which includes schemes for a new weapon and a knife, a watch and "much more". Also according to the tweet, to get the rewards players will have to "join the battle, defeat the objective and reach the extraction point" to get the rewards. In short, it seems that the reveal of Call of Duty: Vanguard will be pretty lively.
According to what is reported in the official Call of Duty blog, the event will include "a new type of weapon, bigger than anything you have seen so far" and collaboration between the various players will be required to complete the aims.
We remind you that the reveal event of Call of Duty: Vanguard will take place on Warzone tomorrow, Thursday 19 August, starting at 19:30 CET. In the meantime, a report may have revealed well in advance the dates of the private and public beta, of the game's launch, as well as that of the beginning of the first season.
Source Did you notice any errors?
---
Is Season 5 Call of Duty: Warzone's worst update ever?
The Call of Duty: Warzone Season 5 update dropped last week, bringing some new and returning content. This includes two new Perks and new Points of Interest. However, it's been marred by a lot of different issues.
Call of Duty: Warzone has a long-standing issue of prevalent cheating, which caused Raven Software to issue bans on 50,000 accounts. It seems they are taking steps to fix this, however, saying that they "are listening and hard at work behind the scenes." Perhaps stricter anti-cheat implementation will finally make its way into the game in the near future.
Aside from cheaters, it seems like players don't appreciate Call of Duty: Warzone's new Combat Scout Perk. This Perk marks enemies and makes them visible even through walls – similar to a wallhack. Some players on the game's subreddit are also not happy about the general lack of content from the current patch.
There's also been a lot of different technical issues that have marred the launch week of Call of Duty: Warzone Season 5. Several players and outlets have reported that the update has caused lag and stuttering. However, the devs did come out with a patch to address some bugs last Monday.
Additionally, some of the game's biggest streamers have also begun to migrate to rival Battle Royale games, Apex Legends. This includes Dr Disrespect, TimTheTatman, and it's former biggest streamer NICKMERCS.
This turmoil comes at a critical time for the Call of Duty franchise, as its biggest rival, Battlefield is set to release its latest iteration, Battlefield 2042 this October. Currently, though, there is no confirmation of a Battle Royale mode for it just yet.