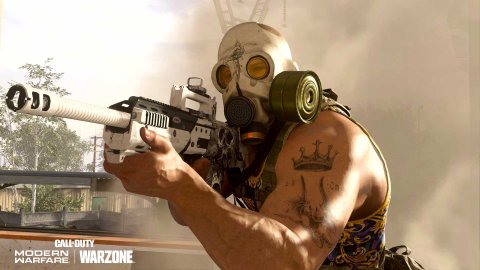 Call of Duty
Activision
Blizzard
has formed a new internal studio with the aim of making a mobile title in the
Call of Duty
series not yet announced. The confirmation came from Daniel Alegre, president and chief operating officer, during the recent financial report on the company's second quarter earnings.
Unlike Call of Duty Mobile, released for smartphones in 2019, this time Activision it will not rely on Tencent, but rather has created its own internal studio dedicated exclusively to titles for smartphones and tablets. From the statements made by Alegre we also learn that the work on this new mobile project will be supported by Beenox and Activision Shanghai.
Call of Duty The company is currently recruiting new talent to join the new studio, with job postings referencing how the company aims to "develop the best triple-A mobile titles in the world." Activision also believes there is an opportunity to connect the mobile ecosystem with the PC and console ecosystem. Definitely ambitious goals there is no doubt about it, but to find out more for sure we will have to wait.
On the contrary, the wait for the first details on the next chapter for PC and console may have come to an end, given that
Call of Duty 2021
announcement period and method were indicated by a specialized site on COD.
Source # 1 Source # 2 Have you noticed any errors?
---
Call of Duty 2021 Gets A Slight Tease During Activision's Earnings Call
There are no stopping rumors and speculation pieces from surfacing online for popular video game franchises. However, we're used to seeing leaks and treading water carefully as they are often fake. In fact, Grand Theft Auto 6 recently had a big supposed leak debunked by its own creator. However, another franchise that has fans eagerly awaiting is the next Call of Duty title. Unlike its competitor, Battlefield, Call of Duty receives a new installment annually.
This means that there's plenty of content constantly coming out into the marketplace. However, a new tease happened during Activision's earnings call. It's nothing big, so don't get too excited. However, when Call of Duty 2021 was brought up, Activision noted that the game will be set in a familiar timeline. Regardless, the company did note that there is plenty of content in development, so there are big expectations on this game doing well.
Call of Duty is known for its extensive over-the-top action-packed campaigns and online multiplayer. However, a significant component to the franchise is now Call of Duty: Warzone. That's something Activision is keeping in mind. Like the previous installments, players can expect Call of Duty: Warzone to get some content implemented wherever Call of Duty 2021 takes us. But, again, we're not given any details yet. Still, the speculation online is that we're going to receive another World War II game installment.
That's, of course, speculation. Perhaps we'll get some further details finally this month to begin marketing this game for a future release. Are you hoping to see Call of Duty head back to World War II, or are you interested in another period? Either way, it should be interesting to see which game comes out on top, with Battlefield 2042 also slated to release this year.
Source